Brass for Brass is a free competition that you can enter to support your local band. 
At Brass Bands England our members are the most important part of the organisation and we know just how much hard work goes into running their bands.
To say thank you, BBE's monthly competition offers entrants the chance to win their annual membership fee for their local band (or your own band, if you're part of one), plus brass related goodies for yourself. Thanks to BrassPass TV, British Bandsman magazine and Band Supplies for these exciting prizes.
Here's the entry form for your initial entry. After that, we'll send you a monthly email to submit new entries and build up your entries in our league tab. To reward loyalty, the more times you enter, the more valuable your entries will become. Giving you more chances to win for you and your chosen band! If you'd like more information on how the competition works, visit the Brass for Brass terms and conditions.
By entering Brass for Brass, you'll also be supporting our aim to share the brilliance of brass around the world. Every time a winner is drawn, we donate £25 to Brass for Africa, our partner charity, which uses brass bands to bring about positive change in some of the most disadvantaged communities in countries such as Uganda. If you want to, you can also choose to donate your chosen band's prize membership fee to Brass for Africa instead.  
We hope you enjoy the chance to win some brass for your brass!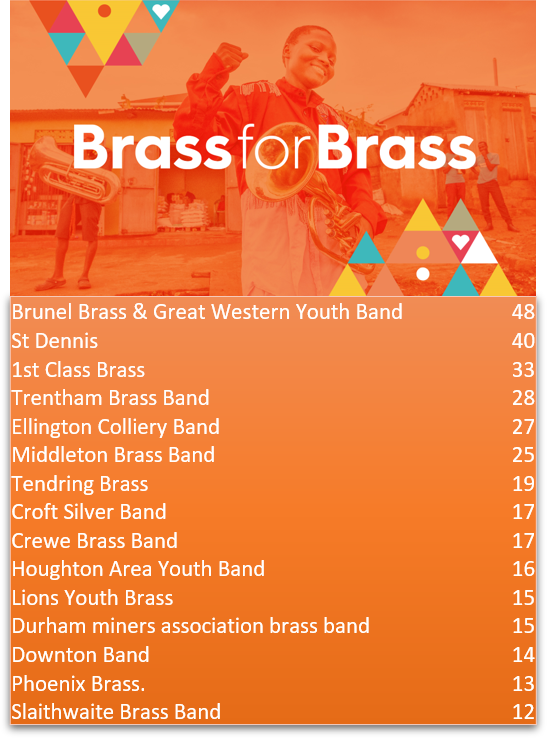 Prizes
The lucky winner will receive a year's free membership of BBE for their chosen band (up to the value of a single band membership renewal, currently £100), along with a personal prize of a £25 Band Supplies voucher and an individual subscription to BrassPass.tv. The runner-up will receive a year's individual subscription to British Bandsman online magazine.  If your band wins a second time, the membership prize of £100 will be donated to Brass for Africa.
A big thank you to our partners who make the competition possible.
 

Band Supplies is one of the leading brass and woodwind suppliers in the UK. Its shops in Leeds and Glasgow have a vast stock of instruments and accessories from all the major manufacturers including Yamaha, Besson, Elkhart, Yanagisawa, Pearl, Azumi, Jupiter, Selmer, Trevor James, Conn-Selmer, Mauriat and many more ranging from inexpensive student instruments to the high-end models.
British Bandsman was founded in 1887 and since then has remained at the forefront of brass band journalism, its editors having included some of the major influencers in brass band history like Herbert Whiteley, John Henry Iles, Eric Ball and Geoffrey Brand. In recent years, BB has moved towards being based online.
Formed in 2018, BrassPass.tv offers a wide range of live and recorded brass band content from all corners of our world, ranging from leading bands like Cory, Black Dyke, Brighouse and Rastrick and Foden's to the youngest groups taking part in BBE's Youth Champs and almost everything in between!
Brass for Africa
To fnd out more about our charity partner, Brass for Africa, visit our Brass for Africa stories page, watch the short video below, or visit the Brass for Africa website.