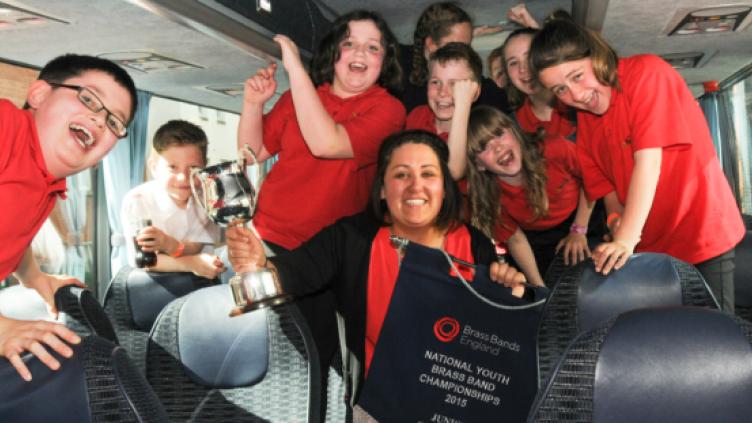 This year the National Youth Brass Band Championships of Great Britain will be held on Sunday 2nd April 2017 at The University of Salford. The venue has a newly refurbished café area in the Maxwell Building and we will be using the main hall in the Maxwell Building for the Intermediate and Championship contests and Peel Hall, in the Peel Building, for the Junior and Beginner contests. We will also have trade stands in the Lower Maxwell Hall, under the performance space. This will be a great place to mingle between performances. A site plan is available here. If you haven't bought your tickets yet you can do so here, we will be selling tickets on the day but cannot take card payments, luckily there are two cash machines on site if you need them. Tickets are £10 Adults, £6 Child 12-16yrs, £3 Child 11yrs and under and £4 programmes. Parking for the event will be at Irwell Place (postcode is M5 4PE), which costs £4 for the day. All visitor car parks are "pay by phone" or you can use the app (paybyphone). The car park is a 0.1 mile, 3-minute walk to the venue. Disabled visitors can park in front of the venue if they have their blue badge, please report to the barrier cabin on arrival. Band registration is in the Maxwell Building lobby. When going to each hall please make sure you arrive in plenty of time to see your band. We do not allow anyone to enter the hall during a performance as this is unfair to the children. We can also run slightly ahead of time if we have had some shorter programmes submitted by bands. We recommend you are seated for at least one performance before the child that you want to watch. It is also a two-minute walk, outdoors, from one hall to the other, so please also bear this in mind. Map of walking route:
The entrance looks like this:
Looking forward to welcoming you all on 2nd April!