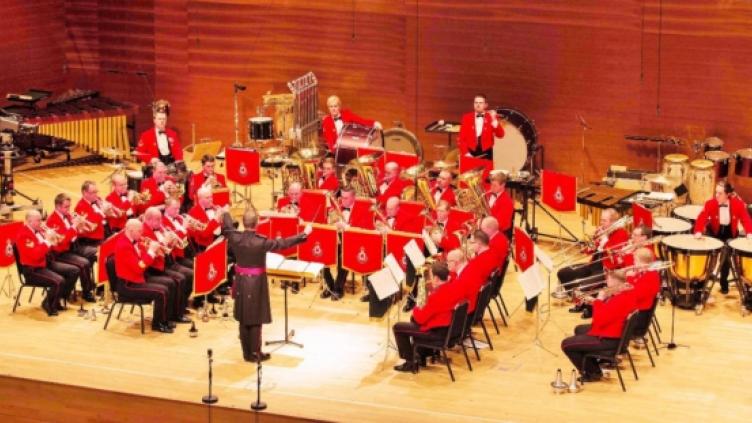 This is a guest post from Cpl Peter May, I/C Media, The Band of The King's Division The Band of The King's Division in its current form has only existed since April 2014 (although its roots lay much further back), when it was reformed as a brass band under the restructuring of Army music, known as FAM2020 (Future of Army Music). FAM2020 has brought about wholesale change for the Corps of Army Music, including the creation of three full-time contemporary bands, three brass bands and an orchestra as well as a new symphonic wind band, alongside the traditional military bands which are familiar to everyone. The idea of the changes can be summed up using one phrase:
To provide "More music that is more relevant, to more people, more often, both at home and abroad."
What this means to serving musicians is that they are now able to specialise as a particular type of musician if they wish. For example, in our case, the band is made up of musicians whose preference and expertise lies within brass banding. This gives the Army the ability to create bands of a higher standard whilst showing a more modern and adaptable face to the public. It also allows the Army to recruit from areas from which it previously wasn't able – brass bands, singers, modern electrical instrumentalists etc. What makes this brass band unique is that everything that we play has a function. What this means is that we rather than putting on a concert which we hope people will attend, we are generally tasked with an event which we would then tailor our musical choice to. Remembrance is one of the most obvious examples of this although there are many more examples – fanfares, church music, parade music etc. Indeed, military bands are well known for writing and arranging their own music to fit an occasion and as a military brass band, we are no different. Since forming last year, our aim has been to integrate into the civilian brass band fraternity, whilst offering the public the chance to play high-quality brass music as a career. This has meant playing at some high profile events such as the European Finals at Perth, Whit Friday, The Great Northern Brass Arts Festival, The Festival of Brass at the Royal Northern College of Music, The Butlins Mineworkers Contest and The National Brass Band Finals at The Albert Hall among many others. This year, the band will be involved in several joint-concerts with top civilian brass bands, including Brighouse and Rastrick and the Household Troops of The Salvation Army. The band is also in demand on the international scene and will be performing as part of the Souchez Tattoo in France later in the year as well as a couple of trips a little further afield, including a trip to Cyprus. The band has built up close ties with the University of Salford, working regularly with their conducting and composing students as well as inviting their players to sit in with us. This gives us the opportunity to pass on a little of our knowledge and expertise, as well as assisting their resident composers by performing their creations. It also gives us the chance to put ourselves on display as a credible career opportunity for these students after leaving university, which can often be a difficult time for musicians wishing to perform for a career. There are six universities offering brass band courses around the country and indeed we offer the only credible outlet for a career as a professional brass band musician. We spend a lot of time nurturing young talent and regularly hold open rehearsals at our rehearsal facility in Blackpool in order to allow young musicians to get an idea of exactly what we do and what we can offer in terms of a long and exciting career.
The band performing at Kneller Hall, the home of the Corps of Army Music. The military side of our job is extremely varied. Although the public may be more familiar with our traditional ceremonial roles such as offering unit support to homecoming troops on freedom parades and playing for The Queen's birthday celebration held at the British Embassy in Paris last year, we also perform in concert to support services charities and help to boost morale in conflict zones by playing to front-line troops as part of Troop Morale Support.
Bandmaster WO1 Burton working with children from the 'Brass for Africa' Project. One of our more recent roles is to be sent out as Short Term Training Teams (STTTs) to developing countries such as Uganda in order to assist with Defence Diplomacy and Engagement. The soft and disproportionate effect that sending a few musicians to work within other countries' military bands can provide is quite staggering. By soft, we mean that it is a non-aggressive strategy and is effectively us offering a benefit to another force, but it is disproportionate in that it can lead to opportunities for discussion between high-ranking diplomats which would never have been possible without these STTTs. While in these countries, we also have the opportunity to work with charities such as Brass for Africa to provide help and hope for underprivileged young people. Corporal Wayne Filer, working with orphans in Kampala, Uganda.
The band is capable of providing all sorts of groups, from a 20-piece Fanfare Team, to Brass Quartets, Quintets, Ten-Pieces, Trumpeters and a full Concert Band. The Corps of Army Music is currently recruiting all types of musician, including vocalists, strings and contemporary instruments as well as the more traditional percussion, wind and brass. In order to find out more about whether the Army could be the right choice for you as a musician, please go to our website or visit our Facebook page.