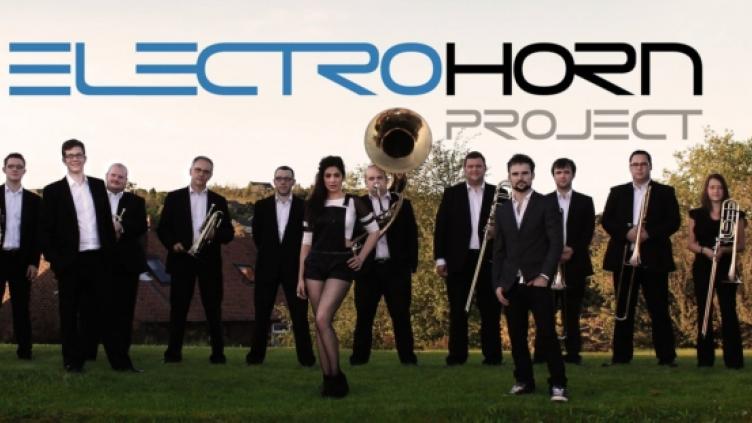 An Oldham nightclub will host the world exclusive of a new dance music concept that is set to take the entertainment industry by storm.

Rochdale based ElectroHorn Project brings the unique sound of a live brass ensemble, drums, electronics, and soulful vocals to electronic dance music (EDM).   The brainwave of composers and brass specialists Dave Collins and Sam Cheshire, both 22, and in collaboration with Austonley Brass, the ElectroHorn Project comprises some of the country's best musicians and is fronted by up and coming vocalist Katie Brisbourne.
This conceptual fusion of live electronics and live musicians, will receive its first public airing at the award winning Liquid & Envy, Retiro Street, Oldham, on Sunday 25 May.
Dave said: "I am a big fan of contemporary dance music, but also love the big sound of a live band.  I wanted to bring those two passions together and finally I have achieved my ambitions with this project.  We have a 10 piece horn line, Austonley Brass, supported by the vocals and drums, so the overall sound is so exciting and will definitely blow clubbers away."
The ElectroHorn Project has already been signed by one of the country's leading artist booking agencies, Big Bang Management.    
Liquid & Envy's general manager Terry Bruce enthused: "I have been involved in the music and entertainment industry for over 30 years and this is the most exciting project I've ever been part of.  To integrate live music on this scale with EDM is incredibly adventurous but from what I've heard already, I guarantee ElectroHorn will have world resounding success."
Tickets for the ElectroHorn Project gig cost £6 in advance and doors open at Liquid & Envy, Oldham on Sunday 25 May at 11pm.  Tickets can be purchased here 
Liquid & Envy is part of The Luminar Group, which was recently voted the UK's Best Nightclub Operator at the 2014 Publican Awards.  Luminar has 53 venues nationwide and has 2,000 employees. Electrohorn. An innovation in dance music: Live Horns. Live Electronics. Live Vocals. All the biggest dance anthems. Live.  #ElectroHorn   Website