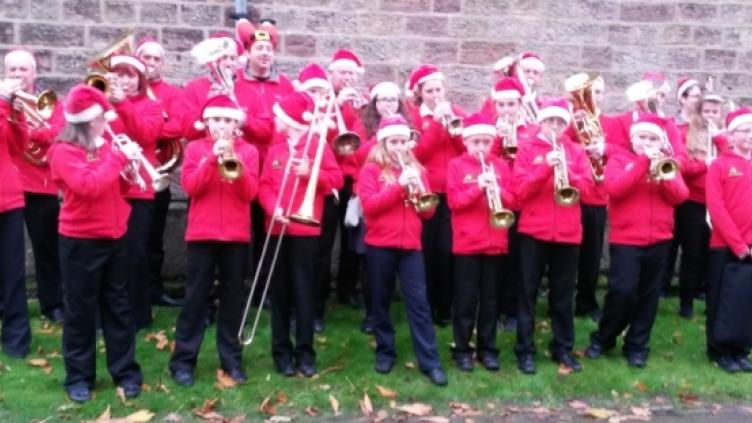 A guest post from new members Red Admiral Music Academy - learn about the exciting opportunities they provide and gain a glimpse of their successful model. Could any of this work for your band?
Last June we launched Red Admiral Music Academy, starting out with just 15 Members and not knowing whether it would work. Well a year on, it definitely worked! We now have over 60 Members of all ages across 3 bands and we have plans in place to grow further as the year progresses.
We have played several sell out concerts, produced our own CD and have had a number of event bookings. The quality of playing has come on leaps and bounds and is improving every week with all of our members eager to develop their skills and take on more challenging pieces.
We launched a brand new Starter Band at the beginning of the year and have had 18 players join it, many of them young, some young at heart and all complete beginners. They made their first public performance at our sell out Spring Concert in March. Also new for this year we have launched Music Theory Classes so that our players can gain a greater understanding of the music they are playing and broaden their musical skills. These are available to all of our Members free of charge and take place alongside rehearsals on Friday evenings. Learning to play brass with Red Admiral Music Academy is proving to be a great hobby to take up as a family. We now have several families some with 3 generations all learning to play brass. We are fully inclusive and we have a number of members who are proof that you are never too old to start to learn to play! If you fancy giving it a try, come along – you will be made very welcome.
Several of our Members have taken music exams over the last few months with George Cobham achieving his Grade 2 on Tenor Horn and Grade 3 on drums and Lewis Barton, Beth Chippendale and Thomas Cobham all achieving Grade 4 on cornet, trombone and euphonium respectively. In June we will be taking a coach full of players to Hebden Bridge to take part in their annual Hymn and March Contest. This will be a great experience especially for our Members who are new to the world of Brass Bands and we are all very excited. At rehearsals everyone is working hard to prepare for a busy Summer. Red Admiral Music Academy will be playing at the Heskin Hall Steam Rally in May to support The Legacy Rainbow House and will be playing at Mawdesley Open Gardens on 28th June. We will also be playing during the Tea Party on the Cricket Field for Mawdesley Walking Day. Our main event though is our 1st Birthday Concert on 12th July where all 3 Red Admiral Bands will play "Brass at the Movies". We have performances at 2pm and 6pm with tickets on sale at £5 for adults and £3 for children (under 7s free). For tickets please contact Mark Cobham on 01704 822463 or 07554 609024. It promises to be a fantastic concert and if our previous events are anything to go by, tickets will sell out quickly so get them soon! Watch this space for our "Proms in the Barn" event that will take place on 12th September at Cedar Farm. More details will be announced soon – keep an eye on our website and Facebook page www.red-admiral-music-academy.co.uk       www.facebook.com/Redadmiralmusicacademy Finally as we celebrate our 1st Birthday we would like to thank everyone who has supported us over the last year. We have had financial donations, donations of instruments and equipment, grants and support from the Parish Council, local businesses and schools. We think we have built something unique with Red Admiral Music Academy and we hope that we are an organisation Mawdesley Village can be proud of.
A bit more about Red Admiral Music Academy Red Admiral Music Academy was created in June of last year with the aim of providing Brass Instrument Tuition in a fun and friendly environment. Our Members range in age from 7 to over 70 and from complete beginners through to experienced players. We currently have 3 programmes to ensure we cater for levels of playing ability and we have recently started theory classes so that our players can gain a greater understanding of the music they are playing. Our base for rehearsals is SS Peter & Pauls Parish Centre in Mawdesley, where we meet every Friday evening, rehearsing from around 5pm to 9pm across our 3 bands. We are set up as a not for profit community organisation with all those involved giving up their time voluntarily. We have a team of 8 experienced Tutors who are all accomplished musicians and love passing on their skills to others and they are supported by some other volunteers who assist with the running of Red Admiral. We have already established a strong link with SS Peter & Pauls school where we provide lessons and we are also in discussion with other schools in the area with a view to providing a similar service. A significant part of our proposition is to provide low cost instrument hire to Members that do not have their own instruments. With such rapid growth we have had an enormous demand for instruments and are therefore using many old second hand instruments that have either been donated to us or we have purchased at low cost. We are constantly fundraising so that we can purchase more instruments and gradually replace the ones we have with better ones. If anyone has an old instrument sat in the loft, why not consider donating it to Red Admiral Music Academy where it will be put to very good use.