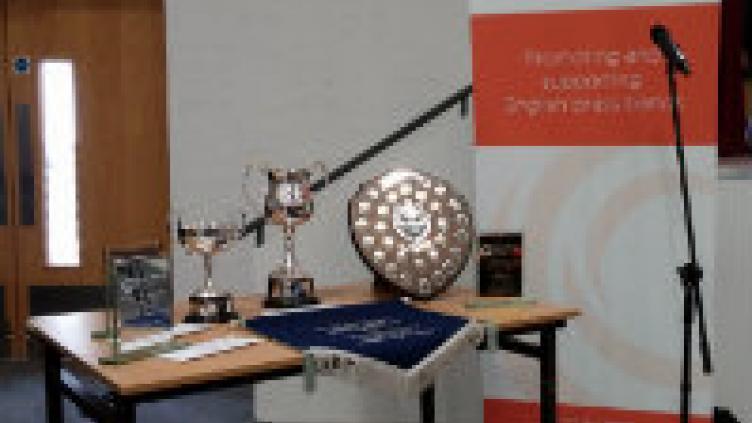 Youth Player Focus
The 2014 National Youth Brass Band Championships of Great Britain is over for another year. Families are home for Easter, music is back in libraries, the concert halls are cleaned and polished, and trophies are being proudly displayed. The day-long event, masterminded by a team of volunteers headed by Gary Walczak and Arnold Tattersfield, unfolded delightfully at the 2014 venue, the University of Salford. Peel Hall saw a capacity crowd at almost every moment, whilst the Maxwell Hall saw a steady turnover of enthusiastic supporters. Brass Bands England congratulate the winning bands and all participants, their musical directors, parents, tutors and supporters. Chairman Mike Kilroy and his team were filled with pride at the sensational playing by so many young people, and at the wonderfully supportive atmosphere.
A supportive parent poses for the camera!
The day was followed by thousands of people both present and via Twitter – look at #nybbc2014 and #futurebrass to see the day unfold. Twitter comments also summed up the day; as Gwent Music said:
Fantastic day @BrassBandsEng Yth Band Champs yesterday and well done to all winners and all bands who performed.The future looks great!
  The National Youth Brass Band Championships are seeking to go from strength to strength for next year's competition; Brass Bands England is seeking sponsors interested in supporting the whole event, or who might sponsor prizes or aspects of the event production. If you are interested, or know someone who is – email Rachel@brassbandsengland.co.uk in the first instance. A review and results summary has been crafted by our friends over on 4barsrest
During the competition, Brass Bands England's National Liaison Officer, Rachel Veitch-Straw, spent time talking to some of the day's stars.
At the beginning of the day, I had a little chat to Isobelle of the Hade Edge Academy of Music Honking Hedgers band. Isobelle has played cornet for nearly a year. She looks forward to Friday band rehearsals. She likes playing because it's fun – and there are sweets in the break! I also talked to young Oliver, aged 5, waiting with his dad for other band members. Oliver, aged 5, relaxed and ready!

 

Oliver is also part of the Hade Edge Academy. He was very relaxed about playing and was ready to take his imminent stage performance in his stride, telling us "I feel happy when I've been playing my Eb horn." Later in the day I caught up with the winners of the Championship prize , Youth Brass 2000, who played their prize performance under the directorship of conductor Chris Jeans . The younger members of the band were celebrating their win in the cafe area, and I asked them what it was about banding that keeps them coming back - "It's about winning" said one young man with a glint in his eye. One of his bandmates was keen to qualify that statement "It's about the music - and about friends. I go to play, but for this lot too!" Lucy said "If you're tired, you don't want to go, but when you're there, you enjoy it and enjoy being with your friends." Younger members of Youth Brass 2000

 

The band certainly have plenty of music and friendship to look forward to. They are touring France and Belgium  this summer, including performances in Eurodisney, Notre Dame. Ypres, the Menin Gate and Boulogne sur Mer. 7 concerts in 7 days; but Youth Brass 2000 Chairman and winner of the  Brian Hicks Memorial Trophy for his services to youth banding,  Don Collins, was sure that the band would manage plenty of sight-seeing as well as keeping to their busy schedule. The band are staying in hotels and even a Chateau for their tour; all subsidised, and made possible, says Don, by the funds raised by concert fees and simple activities like bag packing. Anyone interested in supporting the band should get in touch via their web page Another  of the day's highlights was a conversation with talented young cornettist Ela Williams, who performed with the Ysgol Bontnewydd Primary, a band with many players new to the stage, and with an advanced sound. Ela herself plays the cornet with an immensely mature, full sound. I asked her the secret of her success. Ela shares the secrets of her success

 

" well…it's breathing well. I always do it in the right places. And feeling the music, that makes a difference" Her father, Ysgol Bontnewydd MD  Dylan William added that a not-so-secret part of Ela's success is the fact that she plays or practices for around 20 hours a week, playing at home as well as in several bands. So what keeps Ela banding? "We go to different places" she smiled. "I get really excited and can't sleep before a contest …..neither does Nana!" Nana twinkled a smile at us.
To find out more about sponsoring the National Youth Brass Band Championships for 2015 or to support an aspect of the event, contact Rachel@brassbandsengland.co.uk or call Rachel on 07803 147101