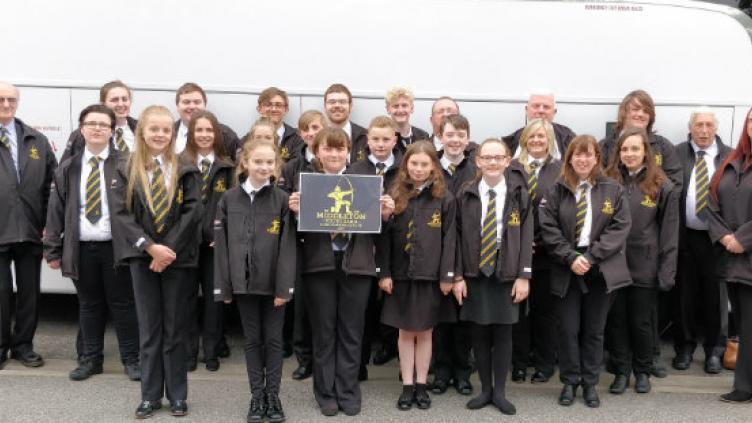 Middleton Youth Band has just returned from their third tour to Disneyland Paris. The band toured from Friday 11th August to Monday 14th August performing on stage at Disneyland Paris on Saturday 12th August in the Videopolis theatre. The tour was a massive success and ran very smoothly from start to finish. The band had worked incredibly hard over a two-year period to raise the funds for the tour and would like to thank everyone who contributed to the fundraising.
Youth Band Manager and Musical Director Louise Crane said, "It has been so exciting to tour to Europe to play a concert in front of an international audience and especially magical to be playing at Disneyland Paris! We are so proud of our young musicians, not only were they excellent ambassadors for our town and country, they were an absolute credit to the band, their parents and themselves for the whole weekend."
This tour was the opportunity of a lifetime for the band members. For some, this was their first trip abroad and for others the first time travelling without their parents. The young musicians certainly enjoyed the experience and many lifelong memories have been made.
Members of the band said, "Back from an amazing trip to Disney with some of the best people! It's been a once in a lifetime opportunity and to say I've performed at Disney is amazing! I've got to say a huge thank you to everyone that went, the laughs we had and the memories we have made are going to stay with me forever. So proud of everyone." "This Disney trip was a lot of fun. I enjoyed every second, including the time all of us at Middleton Youth Band were on stage. Can't thank them enough for organising the event and giving everyone a chance to have a great time at Euro Disney. Can't wait for the band to do something like this again. Thanks a lot, everyone."
The youth band's next adventure begins with the launch of an all new training band for beginner brass players. The launch begins with an open day on 9th September, 11.00am- 12.30pm at our band room at St Stephen's Church Hall, Middleton, where prospective new members can come along to meet the team, try out some of our instruments, play with or listen to our established youth band and register for our new training band. The first rehearsal for the new training band will be on Monday 11th September from 6.30pm – 7.30pm. New members will benefit from our free instrument loan scheme and free tuition from qualified tutors in a fun and safe environment. We are extremely excited to have secured funding for this project from Tesco Bags of Help, Middleton Round Table and other sources to enable us to be able to provide a free, professional service to local young people. Young people aged 7+ who have recently started brass lessons in school or privately or who wish to begin to learn a brass instrument are all welcome to register for our new training band by emailing our Youth Band Manager, Louise youthband@middletonband.com and/or to pop along to our open day! We also have vacancies for any established young brass player in our youth band. Vacancies would suit players of approx. grade 1/2 standard or above with opportunities for more advanced players to progress into our senior band. Again this service is free to young brass players. No fees, no subs and no catches! To find out more about our organisation and our fantastic youth band division, visit our website, to get a flavour of some of the exciting opportunities we offer our young musicians.