Brass Bands England are proud to be an Arts Award Supporter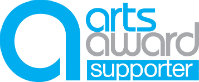 Brass Bands England are an Arts Award Supporter, linking arts and heritage organisations – like Brass Bands – with young people doing Arts Award!
Grow your own talents, explore the arts, be a creative leader…and get yourself a qualification!
Arts Award inspires young people to grow their arts and leadership talents: it's creative, valuable and accessible.  It supports young people to get the most from their artistic and cultural activities.
Arts Award is a range of unique qualifications that supports anyone aged up to 25 to grow as artists and arts leaders, inspiring them to connect with and take part in the wider arts world through taking challenges in an art form.  Arts Award can provide accreditation and external recognition for the work you are already doing, offering qualifications in the arts when these opportunities are increasingly reduced in schools.  
Young people can join the online platform Arts Award Voice – a virtual space where young people can share their Arts Award experiences, get ideas and find out about the arts.
You can do an Arts Award in any area of the arts from fashion to poetry, rapping to dancing, sculpture to film.
You can be the creator or performer of your own work, or develop your skills in essential roles like marketing or stage management.
And you can work towards Arts Award in an arts centre, school, college, theatre or youth club – wherever you take part in the arts.
You'll create a portfolio or arts log that shows off your creativity and gives you a recognised national award to put on your CV.
Arts Award can be delivered in arts organisations, bands, orchestras, choirs, youth theatres, museums and much more – the possibilities are endless!  Maybe your organisation is running Arts Award already?  To find out more about Arts Award or how you can take part or support young people in their Arts Award progress visit www.artsaward.org.uk/gettingstarted or email annabel.thomas@trinitycollege.co.uk