BBE has a national Body of Persons Approval (BOPA) that members can use as an alternative for Child Performance Licensing (CPL) for performances in England. This gives a significant administrative saving to members who use the system.
When does Child Performance Licensing Apply?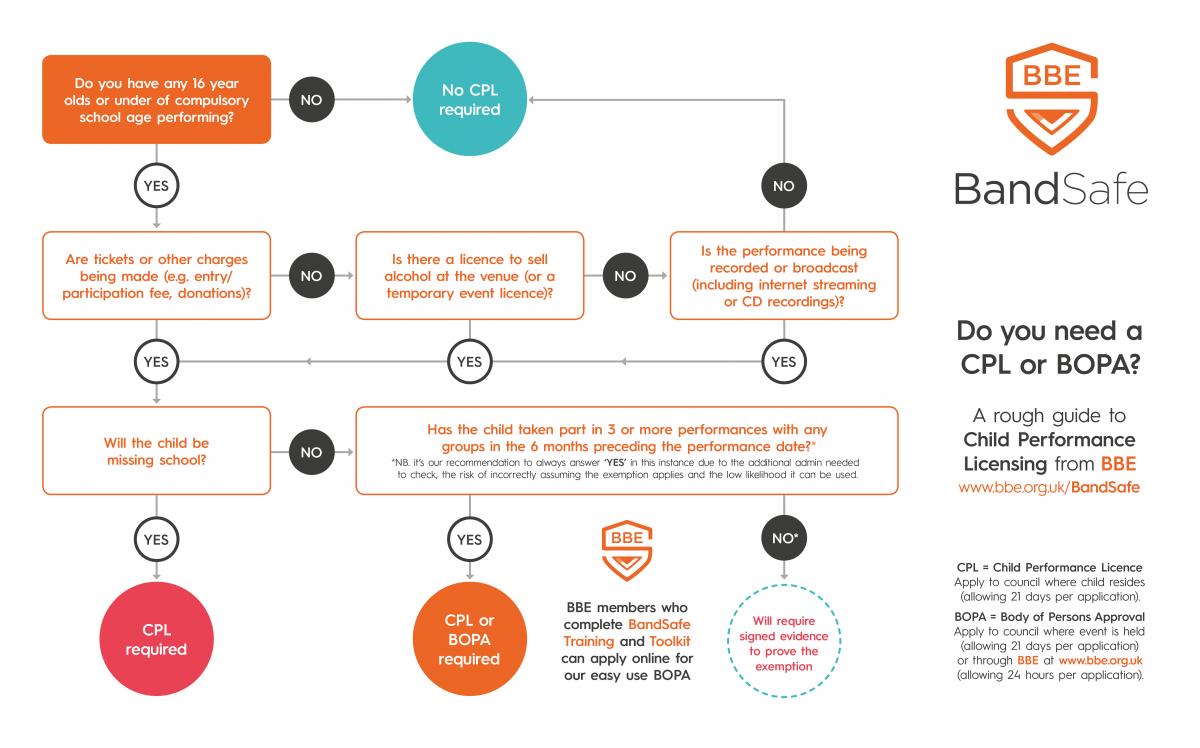 Child Performance Licensing will apply to your performances if you have any children of compulsory school age taking part and one of the below apply. In practice, in England, this means any children in year 11 or below. You need to comply if any of the following apply:
Tickets are sold or other charges made (i.e. fee to participate, donations collected).

The performance venue has a licence to sell alcohol.

The performance is broadcast.

The performance is recorded.
There is an exemption if the child has not taken part in more than three performances in the previous six months. In practice, this is of no use to children performing regularly with a band and can be more admin to check than to add a child to the BBE BOPA. As such, our recommendation is not to attempt to use the exemption due to the risk of getting it wrong.
Using BBE to obtain a CPL
BBE can now act as your one-stop shop to comply with CPL. To use the BOPA your band will need to meet a set of standards which include safeguarding training and completing the BandSafe toolkit to write your band's safeguarding tool kit.
Members can find out about using the BBE BOPA in this members resource
Reasons for using the BBE-held BOPA
Administered by BBE with knowledge of practicalities of banding.

Consistent set of rules across England.

Self-certifying system can be used at any time right up until the event.

Removes the need for multiple differing application processes.

Gives band events an optional advertising opportunity.

Replaces the need for licensed Chaperones.

Supervising adults are able to play with the band providing supervision takes priority.

Completing the BandSafe training will be displayed on your band profile on www.bbe.org.uk.

Supports the band to have best practice safeguarding in place rather than undertaking a large admin exercise.

Can be used on all member events from 1 July 2019 providing BOPA conditions are met.

BBE can provide DBS checks.

BBE inspections as a support mechanism for safeguarding.

BBE advice on 'phone.

No child data collection needed.

Avoids applications across multiple local authorities.

Can be used by bands and event organisers.
As members of BBE, bands can gain cover from the BBE-held BOPA, which exempts them from the legal requirement of applying for Child Performance Licences (CPL) for every child aged 16 or under in their band. As part of the BOPA service to member bands, BBE will provide the BOPA certification, DBS checks and safeguarding advice and training, thereby significantly reducing the legal and administrative burden placed on bands to comply with CPL.
Using BBE's BOPA service, BBE member bands, Associations and Events are able to cover their own events under a consistent set of rules, regardless of the local authority in which they reside or perform. In discussions with the Department for Education, BBE has raised some of the issues faced by bands and, as a result, a system has been created specifically to support bands in their activities, whilst retaining the valuable elements of safeguarding that the legislation seeks to create.
Three vital concessions have been made for brass bands:
·     Removing the need for supervising adults to be licensed chaperones.
·     An explicit allowance that supervising adults can also be playing members of the band.
·     Removal of the need to collect large amounts of data about young people.
As a bonus, when bands apply for the BBE-held BOPA, the system will create an event advert listing free-of-charge on the BBE events page, thus turning an administrative exercise into an advertising opportunity!
Inspections
In addition to administering the BOPA system, the Department of Education has instructed BBE to carry out spot checks on events, removing the need for local authorities to do so. This also means that BBE can support bands with specialist knowledge in their safeguarding activities during inspections.
How to join BBE
Information on how to join Brass Bands England and details of the organisation's services can be found at www.bbe.org.uk/what-we-do or by calling the National Office on 01226 771015.