Our charity partner, Brass for Africa, has delivered music education with integrated life-skills training to over 1,000 disadvantaged children and young people in Uganda, Liberia and Rwanda.
Working in partnership with over 20 community-based organisations, the local team of teachers are all African and alumni of the programmes themselves. They teach music and, through an integrated life-skills curriculum, nurture transferable skills such as self-confidence, perseverance, concentration and communication.
Music is an incredibly powerful tool to engage and transform, and Brass for Africa uses music to champion their four strategic goals of; workplace readiness, community empowerment, disability inclusion and gender equality.
We want to see them succeed in their goal to equip children, young people and their communities with the skills to fulfil their potential.
To found out more about Brass for Africa please watch the shorts video below, read the stories, or visit the Brass for Africa website.
Ronald's story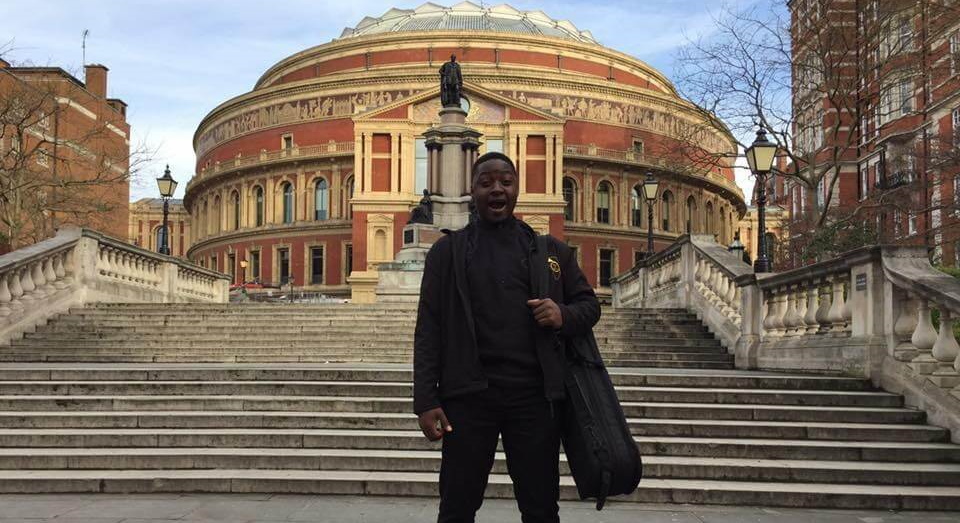 Ronald Kabuye is a remarkable young trombone player. Life didn't start easily for Ronald, from street-child in the city of Kampala, Uganda at the age of 5, to growing up in an orphanage. "I was 3 years old when I lost my dad, my mum found it difficult to raise me and my other siblings, that is my older brother and my two older sisters. She was finding ways she could help us and started looking for orphanages where she could place us, in the end, we had to split up. I stayed with my mum, but my brother was taken to an orphanage and my sisters were taken to the village."  Life was difficult – the only way he could survive was to go around and collect scrap metals to sell and get money, but it is during this period that Ronald was first inspired by music and started to play the trombone. Today, Ronald is a Music and Life-Skills Teacher at Brass for Africa, a junior orchestra conductor, and in his third year of law school .His journey shows what is possible with determination, opportunity and music!
Video of Ronald's Story