Event date
Starts: Thursday, 8 September, 2022 - 18:00
Ends: Thursday, 22 September, 2022 - 20:00
Event description
"Absolutely excellent, really informative, perfectly timed."
This intensive training course has been a hit with our member bands that have completed the training so far.
The course covers all the essential areas of governing a brass band. It has been specifically created to address important areas of focus for those running bands and is designed to meet the needs of the sector.
A participant from the first running of the course said:
"This was a fantastic workshop! Full of extremely useful information, promoting the sharing of best practices for bands to ensure they are managed in the best possible ways. Loved the workshop and would definitely recommend."
What will the course cover?
During the training sessions, attendees will cover:
Funding models and organisational structure
Charity Status, legal structures and responsibilities
Purpose and aims of your organisation
Committee roles and employed roles
Safeguarding
Finding funding
Who will be delivering the training?
This block of Band Governance Bootcamp sessions will be delivered by BBE's Relationship and Partnership Development Manager, Alex Parker. Alex first came to banding when he joined Warwick University Brass Band in 2008. He has since managed bands, helped to establish the UniBrass community and spent time in Kampala, Uganda, working for the charity Brass for Africa. Alex has worked for Brass Bands England since March 2018, focusing on commercial projects and partnerships to develop the organisation's offer to its members.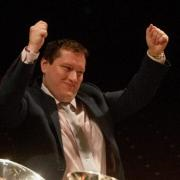 Along with the two 2-hour live training sessions on zoom, attendees will be provided with a workbook and access to the day's training resources after completion of the session. After the two group sessions, all attendees will be offered a 1:1 follow-up with Alex to follow up on any specific areas they need further support.  
Why should I attend Band Governance Bootcamp?
Identifying best-practice organisational set-ups is vital in order to provide a stable and robust framework for your band's music-making. This essential governance training for bands will:
give you confidence that your legal responsibilities have been met
support you to improve your band's financial planning
help you realise your ambitions for your band and its members
outline top tips on how to increase recruitment
offer an opportunity for reflection and to develop new ideas for your band
get access to BBE's fundraising service
Who is this training for?
This training is ideal for a Chair, Treasurer or key decision maker of a band. To get the most out of the training we would recommend more than one person from the same band attend Band Governance Bootcamp.
How much does it cost?
Band Governance Bootcamp is currently only available to BBE members, at a cost of £50 per attendee.
You can join BBE from as little as £25. For information on joining BBE please visit our Join Brass Bands England page.
This training is delivered across two evening sessions (6-8pm) on Thursday 8 September and Thursday 22 September.
Register for this event via the Register button below.
----------
Don't miss The Brass Band Conference! Book your place here.
Location