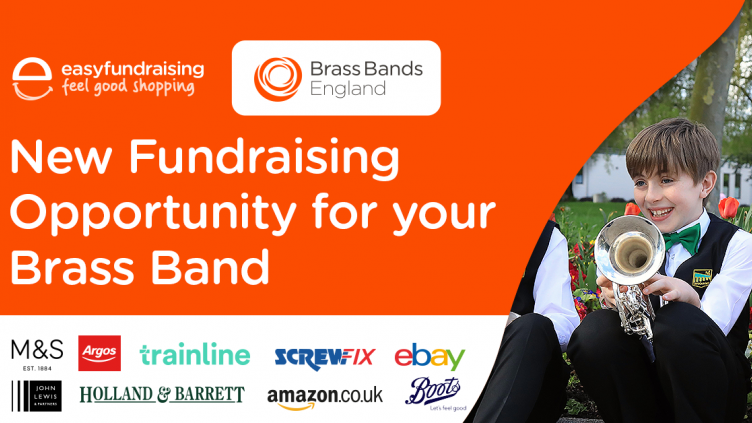 We know that many of bands are facing financial difficulties at the moment with concerts cancelled, so we've partners with fundraising website easyfundraising to help our members benefit from free funding over the summer and beyond.
It's a really simple way to keep funds coming in for your band.  It's completely free to use and it doesn't take up much of your time to manage.  Over 200 bands are already using it, including Woodley Concert Band who have raised £2604 so far: "It costs you nothing and is really valuable to us as a band as a way to make a bit of extra income with almost no effort."
What is easyfundraising all about?
Whenever your band members and supporters use the easyfundraising website or app to shop online with 4000 leading retailers like Amazon, eBay, Just Eat, John Lewis, Waitrose, Argos, Screwfix, Trainline and M&S, the retailer they shop with sends your band a free donation at no extra cost to the shopper.  
Your members and supporters will be shopping online already anyway, especially at the moment, and with easyfundraising, they can turn that shopping with all their favourite retailers into much needed funds for your band.

To get started, all you need to do register your band as a good cause with easyfundraising then ask your members to use it when they shop online. You don't need to be a registered charity and it's completely free to register and use.
Boost your funds with a bonus £100
If you register your band with easyfundraising before 31st August 2020 you'll go into a draw to win £100 to kickstart your fundraising. If your band is already signed up with easyfundraising, simply raise a donation before 31st August 2020 and your band will also go into the draw.

FAQs
Our band isn't a charity – can we still use easyfundraising?
Yes – you don't need to be a charity to use easyfundraising
Will it cost us anything?
No – easyfundraising is completely free to register and use for both you and your members. And your members will not be charged anything extra on their shopping either.
How do we get our donations?
Providing you have raised over £15, easyfundraising total up all the donations raised by everyone supporting your band every three months and send them to you by bank transfer or cheque. There is no charge for this. If your band hasn't raised over £15 in the previous three months, the amount simply rolls into the next payment instead.
How does easyfundraising make money?
Like price comparison websites, easyfundraising makes money through affiliate marketing. This means that retailers pay them commission each time a sale is made through their site and they pass at least 50% of this on to your band. The donation rate shown on the website is what's paid to your band when one of your members buys something from a retailer.