We will be adding links to organisations to help you make your band accessible to all.  If you can recommend any others, please email rosie@bbe.org.uk.
OHMI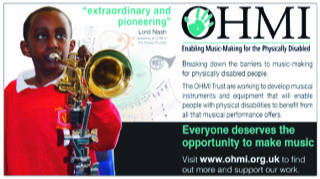 OHMI is a charity that can facilitate the adaptation of instruments for those with disabilities or players who find after illness that they can no longer support their instruments or manage to play as they did previously.
Hear more about OHMI by listening to BBE's interview with Rachel Wolffsohn on Brass Band Radio.
To find out more, visit: www.ohmi.org.uk
Access to events, venues and band rehearsals for disabled people
Download the checklists below to help you make your rehearsal, concert, contest or event more accessible to disabled audiences and performers:
These checklists are based on guidelines produced by the Voluntary Arts Organisation Click here for more detailed information