How to register for use of the BBE Body of Persons Approval
Thank you for using the Making Music Safe service. Please follow these instructions to get set up on the system ahead of any applications to use the BOPA.
If you experience any technical difficulties, please get in touch with Brass Bands England, who we will be happy to help. Please email safeguarding@bbe.org.uk.
Before you begin, please carefully read the public facing information on the BandSafe BOPA.
Legislation change: use of BOPA in school hours
Please note a change will soon be introduced involving the use of the BOPA within school hours - as from this year, use of the BOPA within school hours can now be covered under the scheme, under permission from the child's school. 
In addition to regular BOPA requirements, the organiser will need to do the following if the event will require a child to miss school:
For independents, academies, free, and special schools, the school's Head Teacher (HT) will need to grant permission for a leave of absence. This is done at the HT's discretion but should be granted for educational activity. A letter should be prepared with a tear-off slip to be returned to the event organiser.
For maintained schools, the HT can record the child as participating in an approved off-site educational activity, recorded as Code B, which means the child is not technically absent. HTs of maintained schools are not permitted to grant absence from school - this reflects the fact that this would only be issued if the performance provides an educational value to meet the Code B requirements. A letter should be prepared with a tear-off slip to return to the event organiser. 
These permissions will need to be collated and made available for inspection, if required, alongside the other paperwork we currently require to be present on the day.
Signing up: let's get started
Please visit the Making Music Safe Annual Subscription page, which looks like this: as this service is only available to members of making music you will need to access the link from the Making Music Members resource.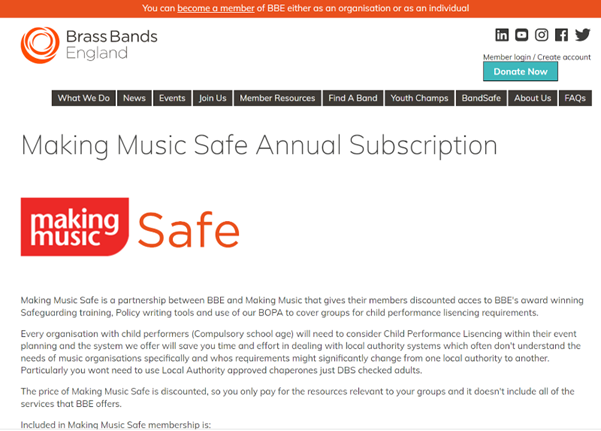 Please read all of the information carefully and fill in the form on the webpage. Please choose your payment option from direct debit or card. You will need to select "Making Music Safe" from the drop-down list of membership types. 
Next steps 
You will now see the instructions to get set up. This requires you to do the following:-
Ask your team to create their own personal accounts by visiting this link or going to the BBE homepage and selecting "Create an account". Once logged in they will be able to access the Members Dashboard and select "Register as part of a member band".
As the group's Administrator, you will receive an email directing you to the My Group section of the dashboard in order to approve them. Alternatively click "Manage Group, Update members and roles" where you can see all linked individuals and approve or remove them.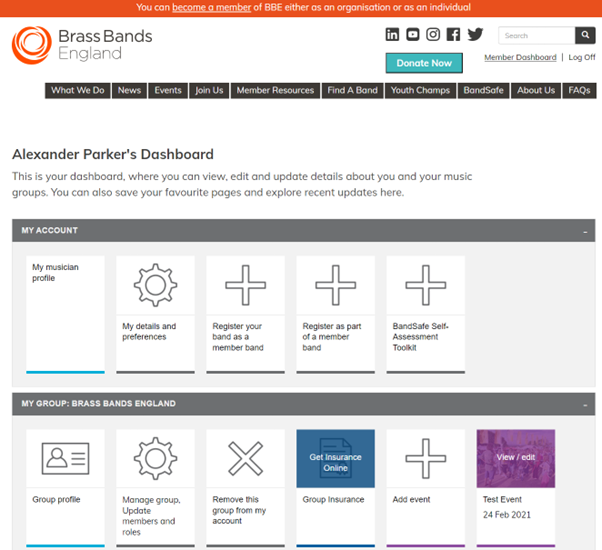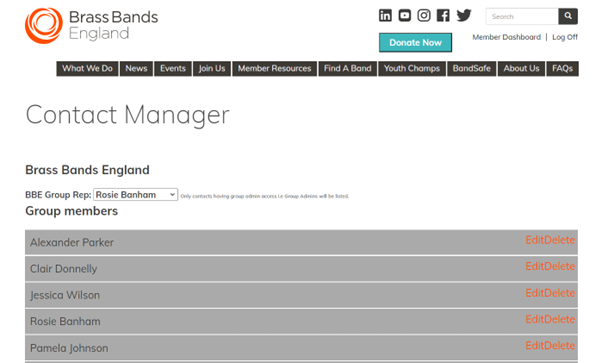 You will need two linked individuals to have BandSafe Safeguarding Training to use the BOPA. BandSafe training can be booked by visiting the BBE Events section. Training sessions take place regularly on Zoom.
You will also need to work through the online BandSafe Self-Assessment Toolkit. This can be found in the My Account section of the members Dashboard. If you have any questions about filling out this assessment, please contact the team on safeguarding@bbe.org.uk

 
At this point your dashboard BOPA status tile should have been updated to Eligible and a new tile will have appeared under My Group to "Apply for event BOPA" please click this to apply for permission to use the BOPA. Upon submitting this form a permission certificate will be emailed to you along with the BOPA terms and Conditions. You are required to forward this certificate on to your Local Authority Licensing Officer.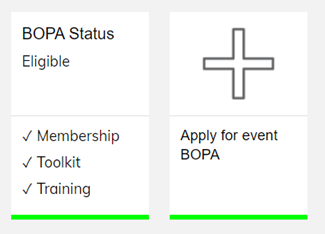 Running your event
You should now be able to go ahead and run your event but please ensure your event complies with the BOPA terms and conditions, which will be included in your Permission Certificate email.
Many of the Terms won't be relevant to your events, in which case you don't need to make any changes. The main responsibilities that will apply are:
supervision of children and young people by supervising adults with DBS checks (No licenced chaperones needed) in a 1:12 ratio (but an additional adult for emergencies is preferable)
ensuring you have the paperwork with permission, photographic consent and medical information
ensuring you have a risk assessment, first aider and access to your safeguarding policy.
These will be checked in the event that your event is inspected.
If you have any questions please email safeguarding@bbe.org.uk.