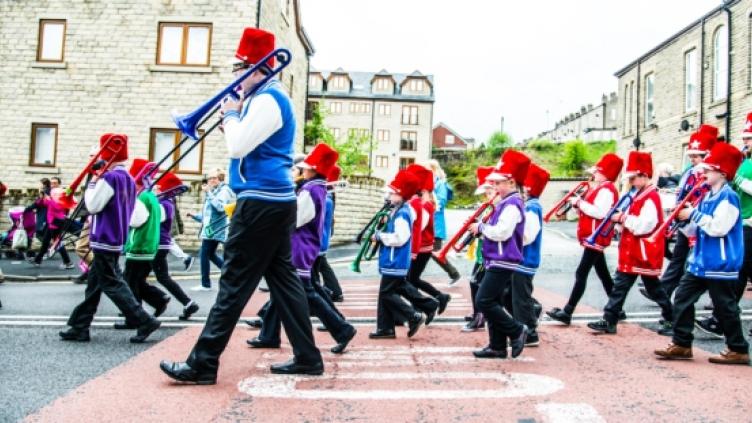 The Incredible Plastic Street Band is a dynamic 30-piece brass ensemble made up of Mossley and Stalybridge schoolchildren aged 7-11 years.  Funded by the Arts Council and Youth Music and playing pbone plastic instruments, the project has run for three months and is now in its final week.  Many of the 30 players applied to join the project after taking part in school taster sessions in March. Across the area, over 750 children were encouraged to play trombones or trumpets in noisy and colourful workshops delivered by experienced tutors.  After their concert for parents and supporters, young players will be encouraged to join one of the local brass bands linked with the project, or to get involved with the Carnival Club at the Vale in Mossley. What next for the Incredible Plastic Street Band? The band have an important request:
"High quality starter brass tuition such as this project is an extremely accessible and inclusive route into the world of music.  There is still a gap in provision in some localities for children who want to be part of a band or musical group and who need the immediacy of being able to make music, right from the moment they start.
 We would like this band to continue, in order to help fill this gap in our area!
The Kickstarter crowdfunding campaign (Search the Incredible Plastic Street Band on Kickstarter.com, or watch out for links on social media) will be launched at the end of June. Raising £1000 in July by local support will allow us to start to create an amazing legacy for our project.  The band can begin to exist in its own right, available for beginner music provision and also as a marching band for local parades and community events.
Please find us and support us to make this happen! Facebook: Vale Music Ensemble  Twitter: @ValeMusicMCR and @coachingcounts