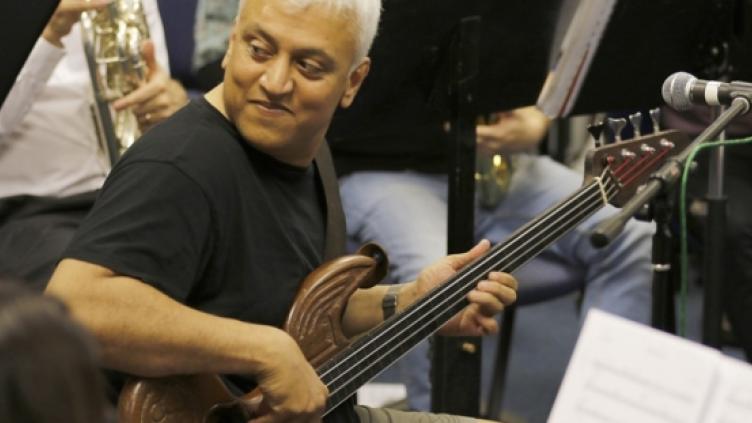 New Brass Band and India-inspired Collaboration Celebrates Musical Connections Across Cultures
Yorkshire's Hammonds Saltaire Brass Band, composer, producer and multi-instrumentalist Shri Sriram, and jazz legend Ben Castle are preparing for their project premiere at the upcoming Durham Brass Festival. In a bold artistic move, Shri, famous for his unique style of playing bass, ground-breaking sound with Badmarsh & Shri, and compositions for theatre, dance, film and TV, approached arts development organisation Brass Bands England to find a musically flexible band with the quality of sound to bring his idea to life. Shri's original inspiration for the Just a Vibration project came from comparing the warm sounds of northern brass, the melodies, harmonies and street brass sounds of his native India, and an image of the enduring strength of the grey, shining rooftops of a rainy Yorkshire terraced street. He wanted to connect these emotive musical pictures through a melodic blend of intricate Indian sounds and stirring brass harmonies.
Renowned brass band Hammonds Saltaire, under the guidance of musical director Morgan Griffiths and a decisive management team, seized the opportunity to try something new. An intense research and development phase involved experimental sounds, improvisation sessions, studio work and rehearsals, and Shri, together with  experienced arranger Ben Castle,  created the unique aural imagery of Just a Vibration, stunning sounds which celebrate that, world over and culture-wide, all music is Just a Vibration and brings endless possibilities of togetherness.
The music resulting from this unique artistic collaboration, funded by an Arts Council England Grants for the Arts award, premieres on July 19th at the annual Durham BRASS Festival Brass Bands England's Liaison Officer, Rachel Veitch-Straw, is looking forward to the première. "It's been great to connect such superb and diverse musicians in such a progressive and daring collaboration. I'm especially pleased for Hammonds who are showing the way for other brass bands to try something different." Hammonds Saltaire Chairman, John Myles, said of the project: "We are pleased to have gained so much here – a musical challenge, new experiences, new performance venues, and widespread publicity already leading to further opportunities for the band. It's been really positive to work with Brass Bands England, Shri and Ben, and we are looking forward to our next artistic challenge" Just a Vibration premieres on Sunday 19th July at the Gala Theatre, Durham. Tickets for BRASS 2015 are now available at www.brassfestival.co.uk  or by calling the box office on 03000 266 600. Follow the conversation on #durhambrass or see #bestbrass for more brass ideas.