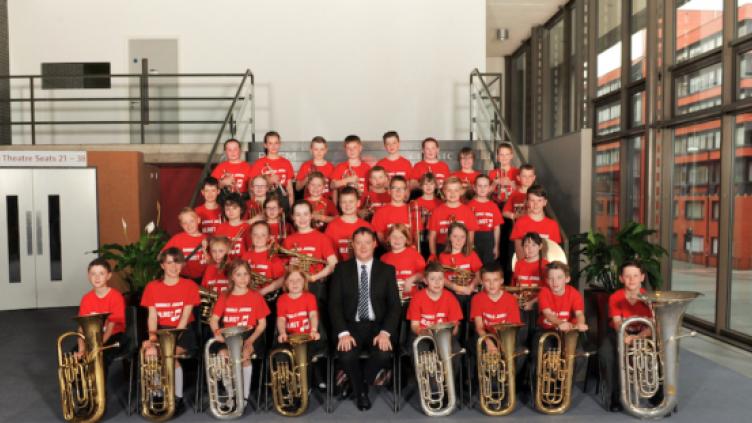 We are pleased to announce further details of the 2016 National Youth Brass Band Championships of Great Britain, to be held at the Royal Northern College of Music (RNCM) in Manchester on Sunday 17 April 2016. A record number of 39 groups will take part, divided into the Championship Section (7 bands), Intermediate Section (12), Junior Section (12) and Beginner Section (8) with proceedings set to start at 9.00am. Members of the music panel have selected test-pieces from emerging young composers for the top two sections. Jonathan Bates' The Mansions of Glory is the Championship test-piece while the set work for the Intermediate Section is Ryan Howells' Funk Engine, specially commissioned for the contest by Brass Bands England. As in previous years, bands competing in the Junior and Beginner sections are required to play a 15-minute programme of their own choice which, in the Junior section, must include at least one piece of music which has been composed for brass band and two verses of a hymn tune from the "Red Hymn Book". The adjudication panel comprises a blend of youth and experience from the current brass band scene: Euphonium soloist David Thornton and trombone star Brett Baker will adjudicate both the Beginners and Championship sections. Black Dyke baritone soloist Katrina Marzella will be joined by cornet/trumpet stars Paul Duffy for the Junior section, while Mark Wilkinson and Steve Pritchard-Jones will have the task of separating the Intermediate section bands. Tickets for the championships are available to purchase on this website. Tickets can be bought online up to midnight on Saturday 16th April and will also be available for cash only on the day. The day will proceed as follows:
RNCM Concert Hall
Beginner Band Section
Starts 9:00am Results and presentations at approx. 12:20pm
Junior Championship Section
Starts 1:00pm Results and presentations at approx. 6:00pm
RNCM Theatre
Intermediate Championship Section
Starts 9:15am Results and presentations at approx. 3:20pm
Championship Section
Starts 4:10pm Results and presentations at approx. 7:30pm Above photo of Wardle Junior Blast courtesy of R&P Photographic Service.