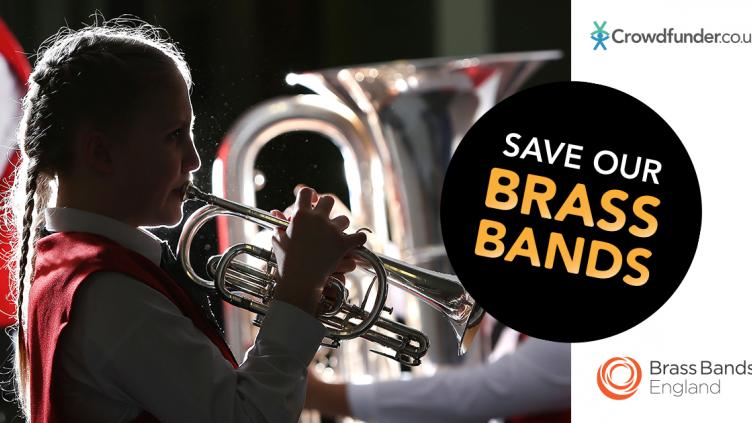 Brass Band England stepped up to help by introducing their Brass Band community to the concept of Crowdfunding to raise much needed funds, with Crowdfunder hosting the campaign and providing coaching free of charge. The campaign follows the successes of previous #SaveOur…. Style Crowdfunder campaigns, such as #SaveOurVenues and #SaveOurTheatres, which have raised over £3 million and £1.3 million respectively.
Brass Bands that have joined the campaign have come from all corners of the UK, from Durham to Bournemouth, Gloucestershire to Hull.  Brass Bands that are steaming ahead with their fundraising include Bilton Silver (Rugby) Band, Shrewton Silver Band, Barnsley Brass and Grimethorpe Colliery Band.
The brass banding community means so much to so many people which is shown in the support gathered in little over 2 weeks. Broadcaster and baritone player, Melanie Sykes, is an ambassador for the campaign and recently promoted the campaign on her Instagram whilst continuing to show her support by including the campaign link in her bio. Speaking about the #SaveOurBrassBands campaign, Melanie Sykes commented:
"I've been involved in brass bands since I was about eight years old, and going to band as a child was a very good education on teamwork, sticking to rules, discipline to practice, communication and listening, but mostly it was fun! My father, Robert Sykes, is a brass bandsman, like his father before him, who was also a composer and conductor. My dad plays euphonium and conducts, and he taught me the basics on an old trumpet we had at home. He actually taught my whole family and did private lessons for others too."
When asked about the best thing about being in a brass band, Melanie replied:
"For me, being in a brass band meant spending time with my family, being part of a community, learning how to present myself, exercise a bit of showmanship and, in competition, how to handle my nerves!"
The Save Our Brass Bands national campaign has illustrated that Brass Bands creative talents don't stop with their musical abilities! Many bands are offering a range of incredibly thoughtful rewards, which make for really special Christmas gifts for loved ones who've had a tough year. Shrewton Silver Band for example, are offering to perform Carols in front of your house (region specific) for a donation of £10. Alternatively, you could opt for a favourite hymn played by the band and posted on a loved one's Facebook page!
Head to the campaign page and explore the wonderful array of rewards on offer: https://www.crowdfunder.co.uk/save-our-brass-bands
If you want to support the campaign, but your local band isn't fundraising, then check our Brass Band England's project page, the donations from which will be used to support Bands who apply for help with ongoing costs such as rent, payments to teachers and conductors, and payment committed to ongoing projects.