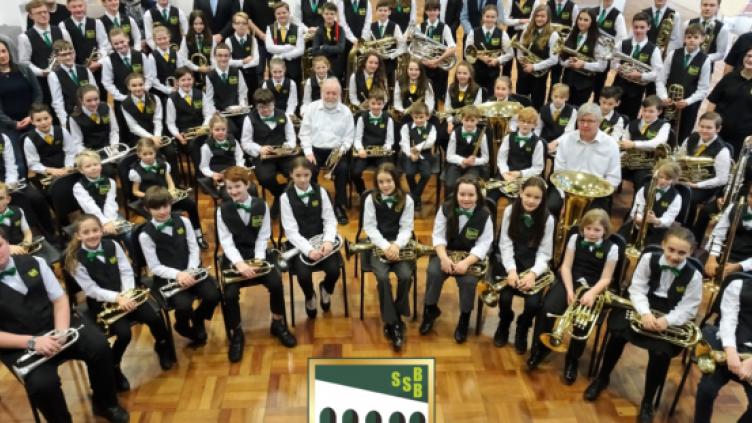 The Stockport Plaza plays host this weekend, Saturday 16th June, to a celebration of the fine tradition of brass band music in Stockport with Stockport Schools' Brass Bands (SSBB) marking its 40th year with a gala concert.
SSBB has nurtured brass and percussion players from across Stockport and Greater Manchester since its inception in 1978.  One of the founder members, Helen Williams, is now a soloist with Cory Band, the number 1 ranked brass band in the world.  She speaks proudly of her time at SSBB "Playing for Stockport Schools' Brass Band helped fire my enthusiasm for music as a teenager and gave me the confidence to push my playing and brass teaching career forwards to where it is now". Helen is not the only SSBB player who has gone on to make a career in music and the Reunion Band, made up of close to 60 ex-members, will feature a number of professional brass players from across the North West and as far afield as Jordan, with Major Justin Matthews, musical advisor to the Jordanian Armed Forces returning to play in the band.  Bob Wyatt, who was MD at SSBB for 17 years, is looking forward to catching up with old friends and will be represented in the Reunion Band with all three of his children taking to the stage. Bob's son Tony, will be conducting the band alongside Phil Pavey and James Holt.
The concert will also feature the current SSBB bands.  Libby, age 6, the youngest member of the Junior Band is looking forward to performing on the stage at the Plaza. As she says "concerts are really good because you can show what you can do and you can try your best".  The current SSBB Bands playing on the night have close to 90 members and are a fine example of how youth bands are thriving, even in the current era of cuts in funding for music.
The band will not have long to rest after the concert though as they head off for their Summer tour to Belgium in July.  The band are particularly looking forward to playing in the Last Post Ceremony at Menin Gate in Ypres.  They will be very proud to be representing the Stockport Veterans and will be laying a wreath on their behalf.  Five of the Normandy Veterans will be attending the concert to send their best wishes with the band on their trip.

Alice Bell, Administrator of SSBB, has been overwhelmed by the number of ex-players who have wanted to join SSBB to play in the Reunion Band. She comments "I have been associated with SSBB for the past nine years and it has always been clear that SSBB is not just an organisation but it is a warm and welcoming family.  As an organisation we are very proud of all our members who have continued to play at whatever level, demonstrating that banding is so often a real hobby for life and reinforces how important organisations like SSBB are".
Saturday looks set to be a real celebration of the wealth of musical talent in Stockport past, present and future.   And with over 100 players from the current SSBB Bands and Reunion Band joining together on stage to play the finale it will be a celebration not to be missed.
Tickets for this event can be purchased from the Stockport Plaza website or direct from their box office.