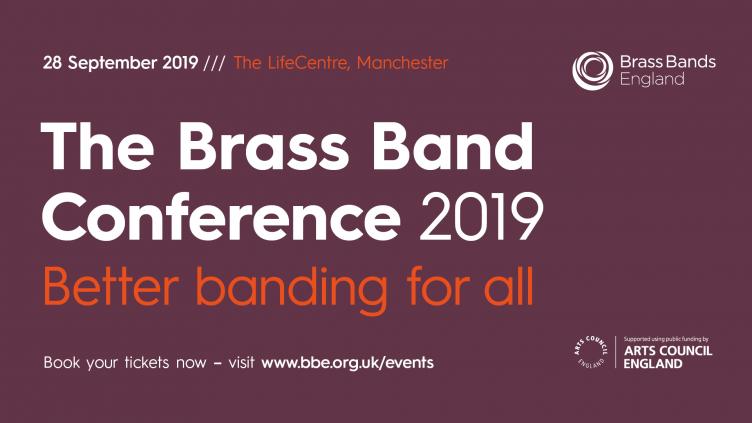 Under the banner of 'Better Banding for All', the event will see a variety of activities take place during the day, including a keynote address by leading composer Edward Gregson and a panel debate on the purpose and structure of brass band contests. Breakout sessions on creative funding, diversity and inclusion, safeguarding and Child Performance Licensing, mental health in brass bands and copyright will also be available to those attending the conference, each hosted by industry leaders and offering advice based on current best practice.
BBE Chief Executive Officer, Kenny Crookston, commented: "We are delighted to be able to present such a compelling timetable of events for our conference, which we intend will become an annual fixture on the brass band calendar. Brass bands in the UK may have been deprived of opportunities for communal discussion throughout history, but we are confident that this is a culture that can be changed to the benefit of every element of brass banding over the coming years. We know we are a community with plenty to say about how things are run, so here is a fantastic opportunity to both acquire some new skills for your organisation and to have your say in how our future can be shaped!"
The panel discussion will look at two questions: 1. What is the purpose of brass band contests? and 2. Is the current structure of brass band contests fit for purpose? Taking part in the discussion will be:
Ulf Rosenberg (President, European Brass Band Association)
Martin Mortimer (British Open Brass Band Championships)
David Hirst (Association of Brass Band Adjudicators)
Andy Straiton (Chair, UniBrass Foundation)
Martin Gernon (BrassPass Band of the Year)
James Garlick (Boarshurst Band)
The discussion, which will be live-streamed on the Internet through Facebook Live, will be chaired by BBE CEO, Kenny Crookston, and opportunities to comment or ask questions will be available through social media using #betterbanding. Kenny Crookston added: "We don't expect to be able to change the world overnight, but if the debate produces good ideas or finds some agreement over consistency of approach in the future then clearly it will have been worthwhile. We really would like as many bandspeople as possible to get involved, wherever you are in the world, so please either come along to Sale or tune in to catch the discussion through Facebook Live on Saturday 28 September."
The Brass Band Conference will also host BBE's Annual General Meeting and see the first presentation of the organisation's Annual Awards, nominated by the brass band community and presented to the winners in the Lifetime Achievement, Innovation and Social Impact categories.
Tickets for The Brass Band Conference are available from www.bbe.org.uk. The first two registered delegates from any member organisation will be admitted free of charge, with subsequent places charged at £10 or £15 for non-members (price includes buffet lunch).
The Brass Band Conference Timetable
09:30 - 10:15: Registration
09:30: Brass Bands England Annual General Meeting (members only)
10:30: Keynote address by Professor Edward Gregson
11:15: Breakout Sessions:
Creative Funding (Richard Brown – Arts Council England)
Diversity and Inclusion (Sophie Hunter - IVE)
Safeguarding and Child Performance Licensing (Alex Parker – BBE)
12:15: Lunch
13:00: Discussion Panel - What is the purpose of Brass Band Contests and is the current structure fit for purpose?
15:00: Breakout Sessions:
Mental Health (Michael Bonshor – University of Sheffield)
Copyright - Recording Rights and Distribution (Sarah Baumann - BBE)
16:00 - 16:30: BBE Awards and close