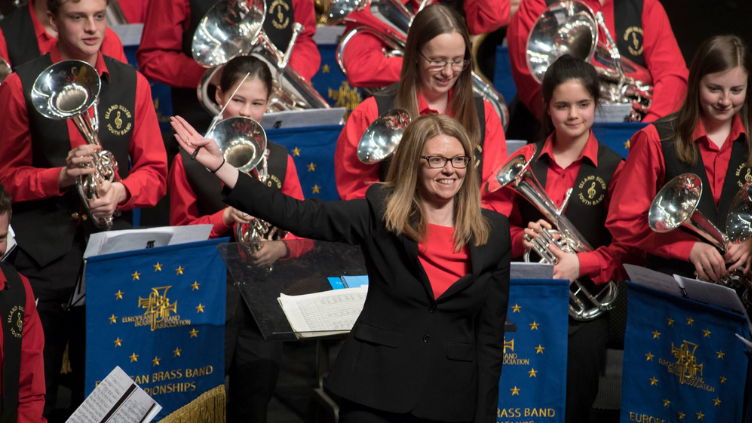 The grant has been funded through the Kathleen Mary Denham Legacy / Wilkinson Fund to contribute towards the costs of financing the youth band's trip to the European Youth Band Championships in Montreux, Switzerland next spring. 
This news comes just in time as the band have received their formal invitation to compete in the 2018 European Youth Brass Championships, being held in Montreux, Switzerland on Sunday 28 th April.  To fund the trip the 45 strong band and their chaperones are currently in the process of raising some £20,000 to subsidise the travel and accommodation costs.
The invitation is a huge opportunity for the young musicians to represent Elland, Calderdale and England.  The trip will provide a unique once in a lifetime experience for the young musicians, both musically and socially, and for some members will be their first experience of travelling abroad.
Secretary, Kathleen Harrison commented, 'We are absolutely delighted to receive this sum, it will really help ensure all our young musicians are able to take part in the trip. We recognise the impact and development music has on our young people. As a charity we rely on sponsorship and grants to help us to offer the very best opportunities and experiences to our young people.  The bands recent 12 hour "play-a-thon" was a huge success, and raised over £2000 in sponsorship.  Highlights of the day were also broadcast live on social media attracting over 12,000 views!'.
Further donations have also been received from the Bearder Trust and One 17.  Over the Christmas period the young musicians will be busking at the Halifax Piece Hall on Saturday 8th & 15th December from 11.00 – 1.00pm.  Playing the The Silk Mill, Rippnonden, Wednesday 12th December as well as performing in the Halifax Minster Christingle Services on Christmas Eve.  You can also here the band perform in their Annual Christmas Cracker concerts on Saturday 1st December, at 3.00pm and 7.00pm at All Saints Church, Elland.  Saturday 8th December, 7.00pm at Halifax Minster, where they perform in the Halifax Rotary Club's, Christmas Concert.
They would be delighted to receive further donations or offers of sponsorship from local businesses.  Please contact our secretary Kathleen Harrison on 01484 717126 for information about any of our events or you can pledge a donation via our online fundraising page at: https://www.wonderful.org/charity/ellandsilverband or you can also donate via our facebook page @ellandsilverband.