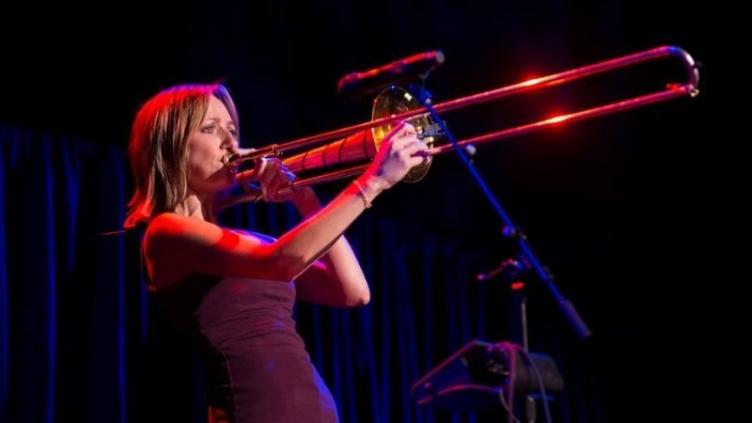 Bring Back the Brass is a new Facebook Live interview series delivered by Brass Bands England's Brass Foundations team. Every Monday at 6.30pm we'll be interviewing an influential figure in the world of brass, and streaming live via the Brass Bands England Facebook page.
Carol Jarvis, Trombone
The series kicked-off last week with a live interview with multi-award-winning trombonist Carol Jarvis. In addition to being one of the most in-demand session musicians in the UK, Carol is a long-standing professor at Trinity Laban Conservatoire of Music. You can view the session below.
Paul Richards and Mark Wilkinson, Cornet
This week the team will be chatting to Paul Richards, who holds the seat of Soprano Cornet at Flowers Band where he has won a number of accolades at various contests.
Next week, we'll be interviewing Mark Wilkinson, Principal Cornet of Foden's Band. Mark is in demand as a cornet soloist, teacher, conductor and adjudicator and holds the seat of Principal Cornet at Foden's Band.
Robert Childs and Roger Argente
Don't miss the following week either, when we'll be speaking to Robert Childs, a leading figure in the world of brass music. He'll be joined by Roger Argente, who has had a varied orchestral career including holding the Principal Bass Trombone position for the Royal Philharmonic Orchestra for 27 years. He is currently Head of Brass performance at the Royal.
About the series
Our Brass Foundations team are currently leading a BBE Brass Foundations project to strengthen youth banding provision across England. So expect a focus on early inspirations, career progression, and big breaks. As well as some top tips and interesting anecdotes from prominent figures in the world of banding and brass playing. There will be some inspiring stuff for young and old, and everyone in between.
How to tune in
You can tune in to 'Bring Back the Brass'! live every Monday at 6.30pm via the Brass Bands England Facebook page. Those who join live will have the opportunity to put questions to the artists as well as participate in the chat.
After the event the show will be available to access via the Brass Bands England YouTube channel and will also be available as a podcast. Make sure to subscribe to the YouTube channel to access new episodes as they are released.
 
Image: Carol Jarvis, Liz Linder Photography