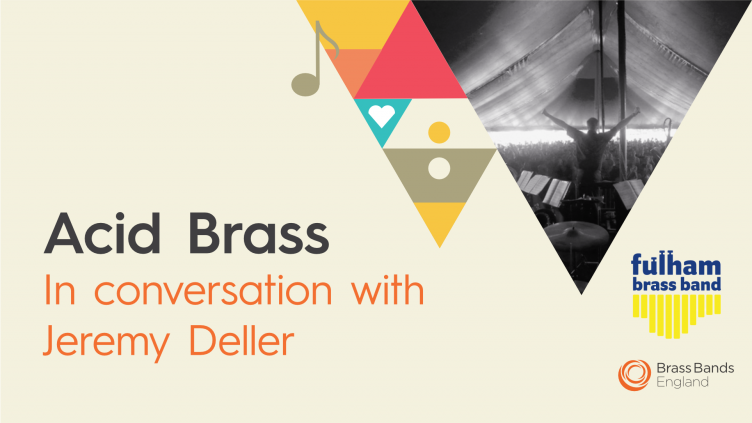 To kick off the week is a co-presented live stream with BBE and Fulham Brass Band delving into the ground-breaking work of Turner Prize winning artist Jeremy Deller in the making of 'Acid Brass'. Interviewing Jeremy will be Simone Rebello, and they'll be joined by Rodney Newton, original music arranger, and David Thornton, Fairey principal euphonium at the time whose first appearance with the band was performing Acid Brass in a club as part of the Edinburgh Festival.
This special online event will take place on Monday 28th September at 7:30pm, and those wanting to be involved can register via this link https://us02web.zoom.us/webinar/register/2416009523428/WN_5BhS_w5LS_WHkz...
There are only 100 places available on the zoom webinar so don't miss out on this unique opportunity to have your questions answered by the panellists. This event will also be live-streamed to the Brass Bands England Facebook page (https://www.facebook.com/brassbandsengland).
In addition to the above activities, BBE will also be hosting another development webinar on Tuesday 29th September.
The BBE team will be joined by Foden's Solo Trombone John Barber who will be delivering a practical, interactive workshop on the topic of improvisation. Throughout this session John will be guiding attendees through a series of improvisation exercises and exploration into the ways to develop a musical motif, a key tool in improvisation. In the second half of the workshop attendees will be putting those exercises into practice workshopping the 'Brass Band Blues'! Anyone wanting to take part should bring along their instruments and be ready to play along throughout the evening.
This webinar will be delivered online on Tuesday 29th September at 7:00pm using the Zoom webinar platform so attendees can interact and ask questions throughout the session. 
This session is free for BBE members, and £5 for non-members. More information on Band or Individual Membership can be found on the BBE website - https://www.bbe.org.uk/join-us. To register for this webinar go to https://www.bbe.org.uk/civicrm/event/info?reset=1&id=98
For the foreseeable future, Brass Bands England will be running webinars fortnightly, in addition to a regular 'drop in' sessions, where members of the Brass Bands England team will be available to answer questions, talk about project ideas and have the opportunity to meet members! 
Any questions about upcoming events can be directed to Brass Bands England's Education and Development Coordinator Sarah Baumann on events@bbe.org.uk.