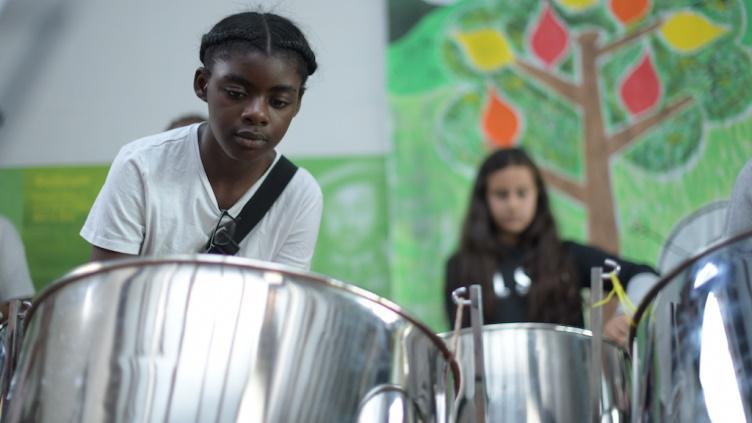 This week, BBE member organisation Kinetika Bloco is celebrating their 21st birthday by sharing successes, challenges and experience from various projects along the way.
Along with brass instruments, Kinetika's unique and vibrant sound includes a wide array of instruments from steel pans to flutes, and draws on musical influences from around the world.
The organisation works with young people from a variety of backgrounds to build confidence, resilience and musicianship.
They're now sharing a Video Toolkit to help inspire and provide valuable insights for other groups looking to diversify their approach.
Videos feature performance clips and interviews with the team as they explore Ethos, Creative Process, Repertoire, Diversity & Inclusion and Performances.
BBE, which in 2020 launched its Challenge 2030 project, which aims to see bands reflect the communities around them by 2030, are particularly looking forward to the embrace diversity and inclusion programme on Tuesday, where we'll hear from Bloco Manager Tamzyn French on three key areas of their unique approach.
Tamzyn told us:
"During a time of national reflection, we hope that these keys will help other organisations by inspiring, encouraging or impacting their culture. Unity, openness, cultural understanding and youth engagement is needed now more than ever, and we want to support others on their journey so the young people in the UK have the best possible opportunities available to them."
BBE Trustee Julie Hoggarth, who lead's BBE's Equality, Diversity and Inclusion working group, said:
"Kinetika Bloco's bold innovative approach in engaging young people is inspiring for all bands. We are proud to be able to share their work with as wide an audience as we can."
How to view the videos
A new chapter of the video toolkit will be premiered each day this week (25 – 29 January 2021) at 4.30pm from Kinetika Bloco's YouTube channel.
Here are the links for each day:
Monday 25th January 4.30pm – Our Ethos: youtu.be/T8bWq7WXJTE
Tuesday 26th January 4.30pm – Diversity and Inclusion: youtu.be/oeO4ePDhPyE
Wednesday 27th January 4.30pm – Our Creative Process: youtu.be/FKDoDYHhXF8
Thursday 28th January 4.30pm – Our Repertoire: youtu.be/c6IYubRvdb0
Friday 29th January 4.30pm – Our Performances: youtu.be/FJ9Qfd_lNn0
For those who can't join live, recordings will remain viewable via the group's YouTube channel.