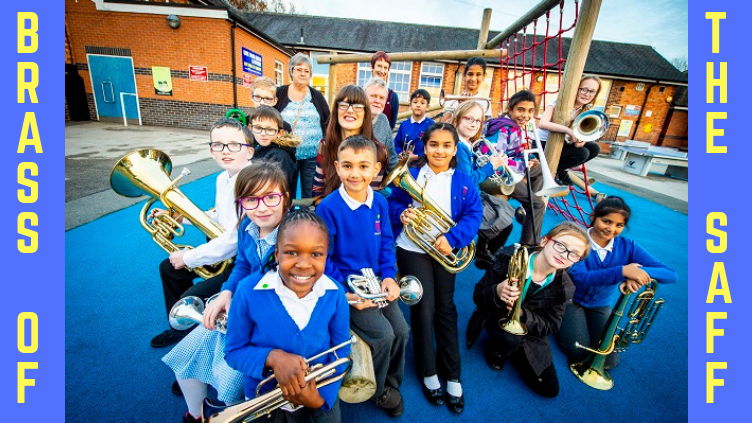 Brass Bands England would like to congratulate Julie Maxwell and the Brass of the Saff (formerly known as Marriott Primary School Brass Band) on their successful fundraising efforts.  
Julie Maxwell and her business parner, Hari Trivedi run, Drum & Brass CIC - a not-for-profit community arts organisation in Leicester.  Two years ago they began running a brass band club at Marriott Primary School, where Julie is a Governor, and in April 2018 they brought their band to the National Youth Brass Band Championships of Great Britain at Warwick Arts Centre to compete in the Beginners Section.  The Band, against the odds, came away with the prize for 'Band Showing the Greatest Potential' and since then they haven't looked back.
Following the Youth Champs, Marriott Brass joined Brass Bands England as members in May and invited Development Manager, Sophie to Leicester to support them with a development plan.  Sophie spent an afternoon with Julie and Marriott's Headteacher, Sheila Crichton talking about the band and discussing funding options and putting a plan in place so the band could reach its full potential.  Sophie commented, 'Sheila was a real force to be reckoned with.  She was 100% behind the children and wanted to see them go back to the Youth Championships looking and sounding the part.  We spent a good couple of hours figuring throwing ideas around and figuring out what was next for them'.
Since then, Julie and the 'Brass of the Saff' - as they are now known - have embarked on a crowdfunding campaign, using Leicester City Council's crowdfunding platform, Spacehive to raise £7,000.  They reached their target with bags of time to spare and Julie is thrilled to bits.  'It's been like a military campaign - I have channeled my inner Tommy Atkins and I have to say I'm now a crowdfunding convert - it's a lot of hard work, but it's really forced us to get out there into our community and talk to local people and local businesses.  We couldn't be more excited.  It's a media circus at the minute and the community loves it.'.  
The Crowdfunder was all or nothing and they had to reach their £7,000 target otherwise they wouldn't receive a penny.  They smashed their target with days to spare however, the public can continue to donate to the project for a further 31 days!  Donations ranged from £2 to £2,250 and they received donations from the community online and in cash, from local businesses, from anonymous donors, from their Mayor and Ward Councillors, from Steve Greenall at the Warwick Music Group and from the Esmée Fairbairn Foundation - and the total is still rising!
The money raised will go towards new instruments, embroidered polo shirts for their second Youth Championships, ABRSM Music Medals and music stands. so that more children can take part.
Well done to everyone!
If you would like to discuss fundraising with a member of our team, contact the National Office on info@bbe.org.uk