Brass Band England is proud to congratulate two member bands Amersham Band and The Cory Band  who have been awarded Queen's Award for Voluntary Service. This is the highest award a local voluntary group can receive in the UK and is equivalent to an MBE. 
BBE CEO Kenny Crookstone led congratulations to the bands by saying "We are very proud that the work of both bands has been recognised for the work they did throughout the pandemic and beyond. The pandemic led to some real creative endeavours and each band exemplified some of the best creative thinking with Amersham setting standards for the quality of remote rehearsing and Cory leading the nation with its socially distanced contests, workshops and performances."
Amersham Band 
The band has been recognised for its amazing volunteers who have helped to create a vibrant band, bringing brass music and opportunities to all within the heart of the community.
Band Chairman, Fred Harrison said "Over the last few years, as we worked on our bandroom project, and subsequently in developing new bands and music opportunities, I have been amazed by the number of enthusiastic volunteers who stepped forward to help the band develop. It is impossible to count everyone who has supported our many fundraising events and donated time, materials or money to help us create a class-leading brass music facility. There must be at least a thousand, and the award is a well-deserved recognition for everyone involved."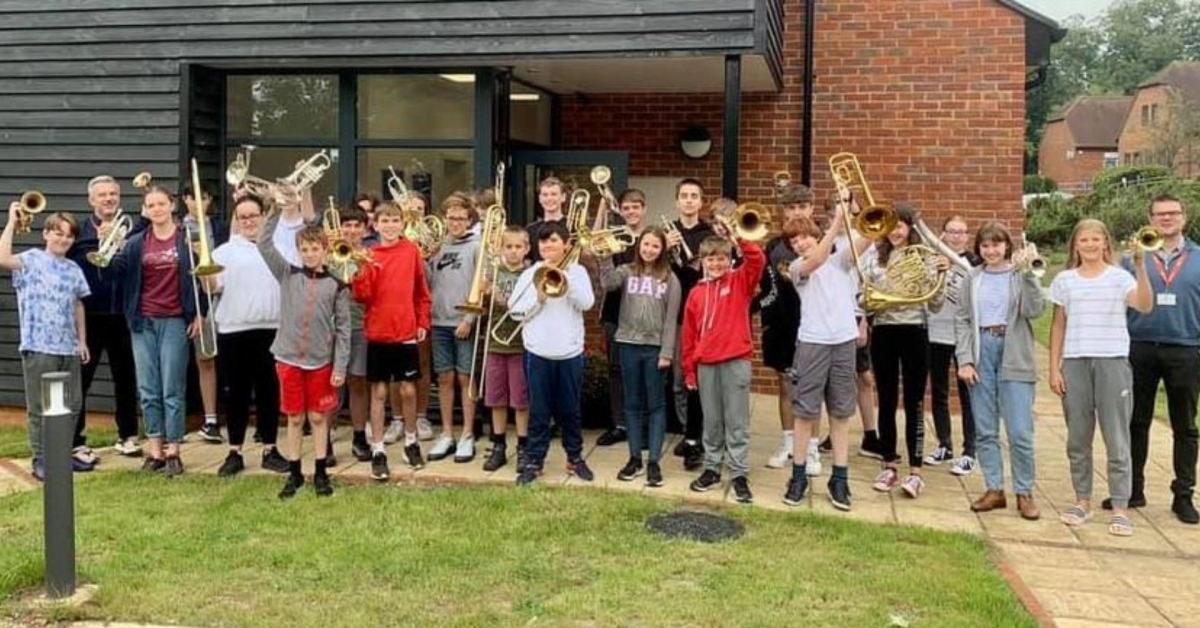 Picture – Amersham Band's new Youth Band outside the recently built bandroom
The Cory Band 
The Cory Band has been rewarded for the work they continued during Covid lockdown periods, when the band released numerous online performances and educational workshops for the benefit of many individuals and groups.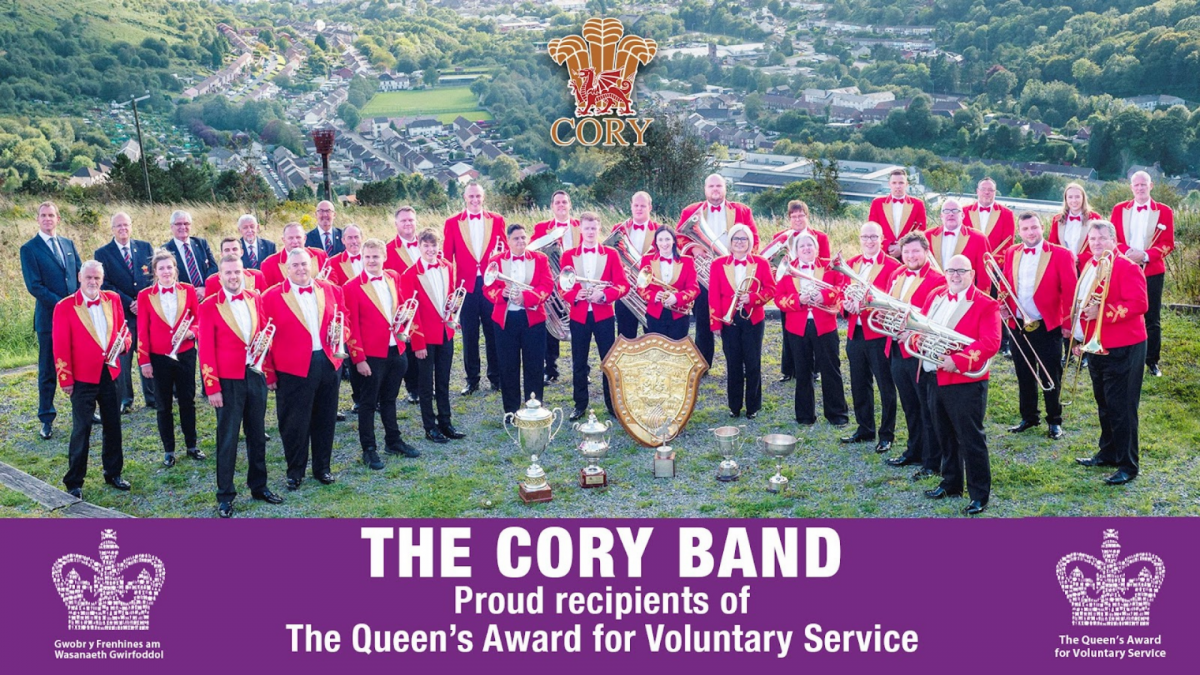 Neil Blockley, Band Manager and Trustee commented "We are so thrilled to be awarded The Queen's Award for Voluntary Service, and particularly in this Platinum Jubilee year. The amount of voluntary hours and commitment it takes from many people to operate a band like Cory is vast, and I am delighted that our members past and present can feel this recognition alongside the organisation. 
For a two year period from March 2020 it was a concern for everyone whether there would be any opportunities for us to perform live again with the challenges that we all faced. Our members have remained loyal and committed throughout this unprecedented time, but I have to single out one individual whose hard work and commitment during this period was incredible, and I know formed a major part of our initial nomination. Ali Woodman is a brilliant percussionist for the band, but during the 12 months from March 2020 he created 14 online performances generating over 3 million views during that period, facilitated 4 online educational workshops including an online weekend for Welsh youth brass players, and delivered two Cory Online Brass Band Championships which saw global participation from 174 bands including youth bands. Not only did our own members benefit from keeping in contact and participating in this way but our audiences remained connected to us and we know our work supported so many of our followers globally.
We certainly are grateful and recognise Ali's incredible contribution during this difficult period, but today we recognise and give thanks to all our members and their families, both on stage and off stage. We will certainly celebrate this award together and plans are already underway for this, along with the official opening of our new rehearsal facility which was another major project delivered during Covid, and our recent contest success which saw us retain the European Champions title."
The Bands are two of only 244 local charities, social enterprises and voluntary groups to receive the  prestigious award this year. Its work, along with others from across the UK, reminds us of all the ways in which fantastic volunteers are contributing to their local communities and working to make life better for those around them. The Queen's Award for Voluntary Service aims to recognise outstanding work by local volunteer groups to benefit their communities. It was created in 2002 to celebrate The Queen's Golden Jubilee. Recipients are announced each year on 2nd June, the anniversary of The Queen's Coronation. Award winners this year are wonderfully Diverse.
The band will each receive their awards formally later in the year from their respective areas Lord-Lieutenant the represent the monarch in each of the UK's ceremonial Counties as well as having representatives attend a garden party at Buckingham Palace in 2023.
If you know an organisation who deserves recognition find out details on how to nominate on the Queen's award website. Applications are open now until the 15th September for the 2023 awards.