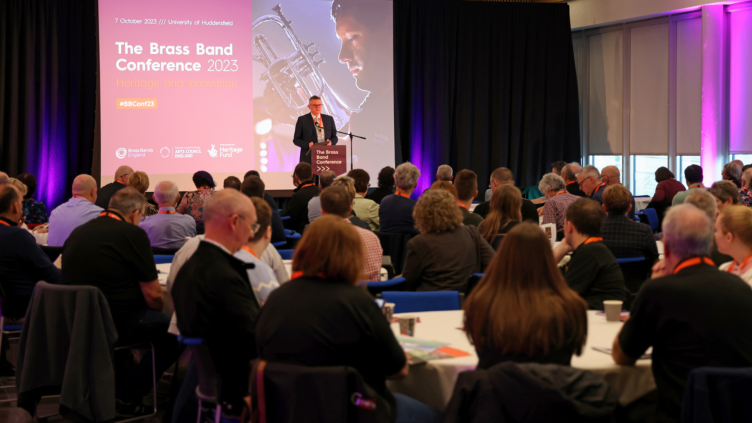 Tuesday, 7 November, 2023
Last month saw The Brass Band Conference return, with 180 people gathering from across 80 bands at the University of Huddersfield for a day of networking and inspiring breakout sessions.
What was the day about?
The Brass Band Conference was centred around providing attendees with ideas and inspiration they can take back to their band, from creating an eco-friendly bandroom to collaborating with contemporary musicians. It was also a day of celebration that saw the winners of the Brass Bands England Awards 2023 announced in a special ceremony.
The day proved to be a roaring success, with participants calling it "informative and entertaining" and a "large and engaging event". 4barsrest hailed the day as a "critical mass of confidence" in their article, whilst Liv Appleton from It's Not a Trumpet called it a "hotbed of, passionate discussion, knowledge and inspiration" within her two-part blog.
The day was not within announcements, either. We revealed the first band-and-artist pairing for our Elevate programme, in addition to the ten member organisations financially supported by the BBE Project Fund.
Catch up on key sessions
For both those who were unable to make it to the Conference and those who want to rewatch sessions, our Member Resource Library, available exclusively to BBE Members, is now stocked with recordings from the day. These include Gavin Higgins' thought-provoking keynote address, James Parkinson's session on staging music to film, and the annual panel discussion.
There is also a Flickr album available to view - perhaps you'll find yourself in a photo or two.
Save the date
The Brass Band Conference 2024 will take place in London on Saturday 19 October. Following previous themes of 'Resilience and Sustainability', 'Improving Our Art', 'Banding for Life' and 'Heritage and Innovation' the 2024 conference will focus on 'Creative Communities'.
Booking will open early 2024, with tickets priced as: £20 for BBE members and £50 for non-members.