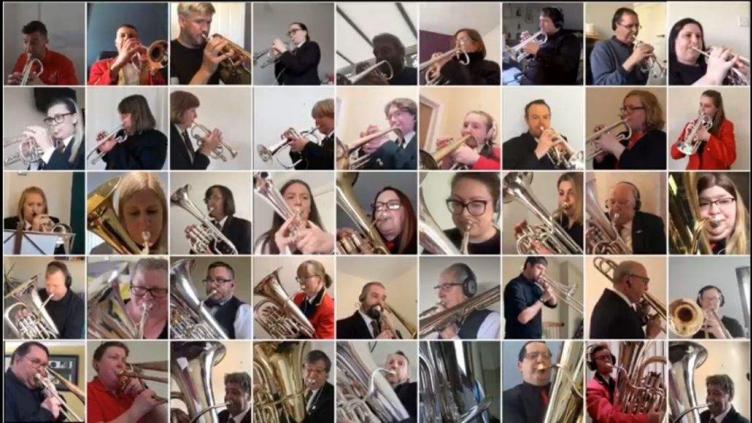 A 'little idea' a few weeks ago has resulted in a big achievement for Sheffield's Brass Banders, something to be really proud of!
This 'little idea' set about to ask all Sheffield bands, and those born and bred in the city, to come together, virtually, to form Steel City Brass. The ensemble would then enter this year's Foden's Online Whit Friday Contest.
The organisers had a huge response with 45 musicians keen to take part. Players ranged from age 12 to 85 years young, including BBE team members Sam Fisher and Alex Parker (can you spot them in the top row?)!
Ten bands and orchestras from across the city were represented, ranging from non-contesting up to championship section bands, alongside individuals who didn't want to miss out!
After an online rehearsal (and some home practice), 45 video and audio tracks were received in readiness for editing.  Fortunately, organisers knew the man for the job; Woodhouse Prize Band's talented Musical Director, Richard Windle. Richard said:
"Prior to the pandemic, I never imagined I would be spending hours on end composing and arranging music for virtual performances, let alone editing and making videos to be shared internationally – some of them winning first and runner up prizes for the Kapitol Cory Online Brass Band Championships with Woodhouse Prize Band."
Gemma Grayson, Secretary for Woodhouse Prize Band and one of the coordinators for Steel City Brass, told us:
"The response to our 'little idea' from the wonderful brass banding community in Sheffield was overwhelming. Never did we think we'd have such enthusiasm. Bringing like-minded people together to produce this track is something all of those involved should be very proud of. We're a lucky bunch here in Sheffield".
Steel City Brass will be competing in the Championship Section of the Foden's Online Whit Friday contest, airing on 28 and 29 May via the Foden's YouTube Channel.
Stay up to date with latest details by following the coordinators Woodhouse Prize Band Facebook page.