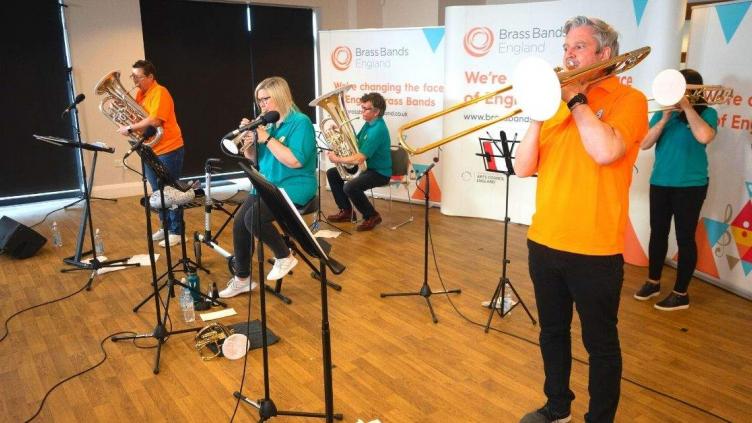 Fun Foundations was a live-streamed workshop day for beginner and junior players held on Wednesday 7 April. 371 people tuned into the exciting and interactive workshops, led by BBE's Brass Foundations team of Youth Development Brass Specialists (Deirdre Waller-Box, Helen Minshall, Paul McLaughlin, Sheila Allen and Paul Fisher).
The morning session, aimed at brass players in their first couple of years of musicianship, featured tonguing warm ups to 'Baby Shark', a whistle stop tour of the blues and a newly commissioned arrangement of popular sea shanty The Wellerman by Matt Kingston of Big Shiny Brass.
The afternoon session, for players who were a little more advanced, featured a trio of works by Alan Fernie alongside a selection of breathing and marching exercises.

The BBE team are thrilled that so many beginners and young players enjoyed the day:
This was my daughter's first workshop since starting to play in January. We thought it was really well done - thank you very much!
Baggy Trousers got us nicely energised. Good practice. Thanks!
Brilliant workshops today BBE, I watched all day while sorting music for when we get our bands back together. I'm feeling really positive after your great music choices and can't wait to get playing!!! Thank you
My son loved it. He really felt like he was playing along with an ensemble, something he has missed so much. Thank you.
Amazing job today BBE and the gang at Fun Foundations! We had a BLAST! Thankyou!
Sarah Baumann, Education and Development Manager at Brass Bands England commented: "The Fun Foundations workshop day was just that - fun! We aimed the content of the day to young brass players who have missed the feeling of playing in an ensemble across the last year, and making sure they remember how engaging and vibrant banding can be as we move back to face to face activity."
If you missed the live video, streamed by BrassPass TV, it can be watched via the BrassPass TV YouTube channel.
Find out more about the Brass Foundations programme or book for your next BBE event.