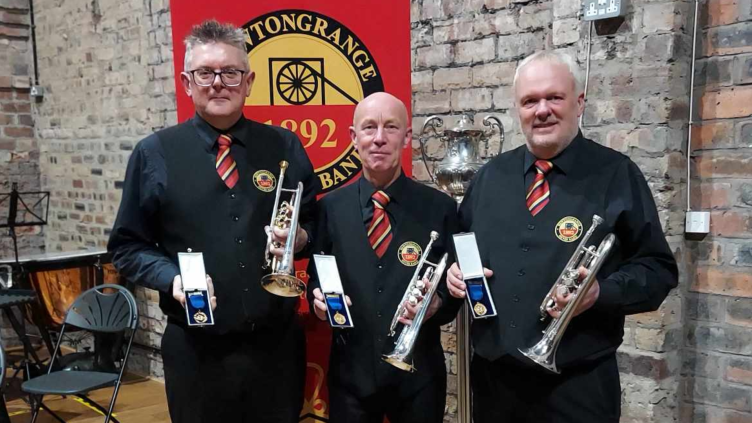 Wednesday, 18 October, 2023
BBE's CEO Kenny Crookston was one of three players honoured recently by the Scottish Brass Band Association (SBBA), marking over 50 years of service to brass bands. Joining Kenny were fellow members of Newtongrange Silver Band, Graham Fletcher and Angus Edmond, with the trio receiving their SBBA Life Membership medals at the band's annual concert in the National Mining Museum of Scotland on 30 September. 
Graham, who has been a lifelong member of Newtongrange on baritone and cornet, commented: "I'm very proud to have been part of the band for the past 50 years and to have witnessed the history we have created in that time." Angus, the band's principal cornet, who also enjoyed a very successful career south of the border with Fairey, Desford Colliery and Foden's bands, winning the National title with Desford in 1987, added: "Brass banding has been a huge part of my life and I've been very fortunate to enjoy some real highlights, but Newtongrange Band and the community here have been a great influence on me throughout it all."
Having started with West Calder Band in 1972, Kenny's career saw him play with Broxburn Band until moving to Whitburn at the age of 18 and joining Newtongrange as the COVID-19 pandemic began to ease in 2021. He commented: "It's lovely to receive recognition from SBBA for a lifetime in banding, but I couldn't have enjoyed the moment with two better and more deserving people!"