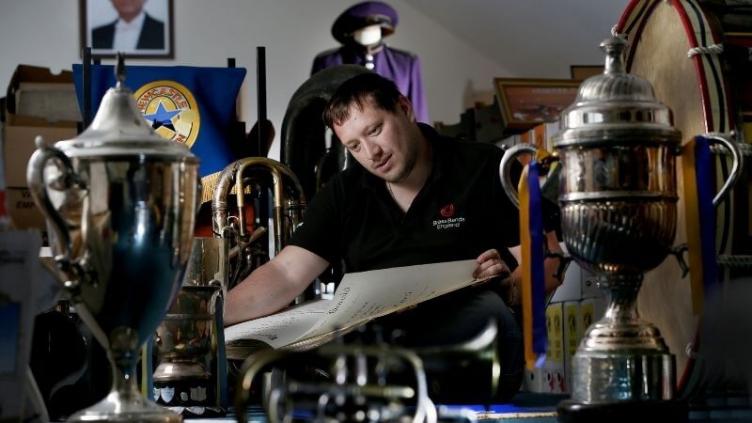 Wednesday, 21 April, 2021
Early 2021 has seen Brass Bands England delve into the Brass Band Archive - a vast array of sheet music and brass band memorabilia, accumulated over the past 50 years.
A project is currently underway to organise the collection, ensure its preservation for the future, and improve its accessibility to researchers, brass band enthusiasts, and the general public.
Throughout April 2021, Brass Bands England have been sharing our story of the archive, as part of a national #Archive30 campaign across social media. You can discover a new fact about the archive everyday by visiting our Brass Band Archive Twitter thread. And perhaps you can even help us identify some of the more unusual items!
History of the Brass Band Archive
Having begun life as one family's collection of brass band material, the Brass Band Archive was formally established in the 1970s. Items were held in a first-floor flat above a funeral parlour in Wigan, where a curation process was begun by two well-known brass players, Walter Ainscough and Alan Marsh. Both men were greatly passionate about banding history, and dedicated much of their free time to the archive in order to preserve its contents for future generations.
In 2018, the lease on the collection's storage premises expired and the archive needed a new home. Custodianship of its contents was transferred to Brass Bands England (BBE) and the material was moved to the BBE offices in Barnsley.
Brass Band Archive Project Beginnings
In early 2021, BBE received funding from Arts Council England to undertake extensive work on the Brass Band Archive. Following the appointment of two professional archivists, the collection is currently in the process of being organised and listed. It will then be relocated to Heritage Quay, an information, records management and archive service at the University of Huddersfield. This move will enable the collection to be housed in appropriate storage conditions to best ensure its preservation, whilst most importantly, continuing to offer public access to the material.
At present, the Brass Band Archive is broadly divided into two categories: a sheet music library and a collection of archive material…
Brass Band Sheet Music Library
The database created by the archive's previous curators has become a valuable resource for our archivists who are seeking to create a logical system for arranging and describing the library's contents. Especially because the Brass Band Archive's sheet music library consists of a whopping 8,000 sets of parts! Luckily, these parts had already been organised by the time they were inherited by BBE – listed (roughly) alphabetically by title, name of composer/arranger, and publishing company. Generally, though, conductors' scores have been separated from their parts. One of our jobs now is to reunite this material, so that it can be easily used by bands wishing to play the music.
Following archival standards, each folder of music now undergoes a process of description and repackaging. These descriptions will become available on Heritage Quay's online catalogue, enabling people to access this information from anywhere. We can't wait to get this collection of excellent brass band music out into the world!
Fascinating Objects and Brass Band Journals
The archive collection includes a vast array of non-music material, including magazines, programmes, books, photographs, trophies, vinyl records, stand banners, instruments and uniforms!
In fact, we've just completed our cataloguing of a huge historical library of brass band journals – here's 5,526 individual copies boxed up and ready for the move to Heritage Quay.
In the future, we'll revisit this catalogue to add more detail, making it even easier to pull out specific items for research purposes.
Archive Volunteers
We have a number of fantastic volunteers who are vital to the success of the archive project.
Much of the volunteers' work at the start of the project involved listing the previously uncatalogued archive collection. More recently, the volunteer team has focused on describing and repackaging the sheet music library, as we seek to improve its accessibility.
As our on-site volunteers produce descriptions for the brass band sheet music library, another team of experts and enthusiasts are supporting the project remotely from their own homes. These volunteers have been helping establish date-based information for the collection.
As an example, several scores and sets of parts (especially those published pre-1950) do not include a date of publication. Our volunteers can often provide approximate date ranges based on certain factors, such as the year in which the music was first performed in a brass band contest. Thanks to our friends at Brass Band Results for providing a wealth of knowledge on this.
Additionally, volunteers are researching and providing information about composers' birth and death dates. This enables us to produce catalogue descriptions with greater detail and will contribute towards our aim to digitise the sheet music library in the future.
This area of the project is where the knowledge of the banding community really comes into play – it's so important in helping us find out more about these items, and we're thankful to everyone who has shared their expertise so far.
If you would like to volunteer with us (either on-site in Barnsley or from home), please do get in touch with the team on info@bbe.org.uk.
Stories from the Archive
Throughout the project, we continue to stumble across some fascinating stories and tales from banding history.
Last week, our archivists began rearranging the archive's collection of magazines and journals. These, often weekly, publications provide a fascinating insight into the banding sector over the last 140 years. They also often reflect the wider history of society as a whole.
Similarly, brass band history can be analysed through our sheet music collection, with many scores and sets of parts having been stamped by their band. This offers a greater understanding of the changes in band names and of the range of companies and industries who provided sponsorship to brass bands over the years. Here's an example from the C.W.S. Tobacco Factory Prize Band who were based in Manchester.
We have enjoyed unearthing some fun doodles and interesting notes within the sheet music collections, and occasionally something beautiful turns up - like this hand-drawn cover for the score of 'Atlantic' by Denis Wright. We've even found a piece of music that was written especially for the Brass Band Archive. We can't wait to see what items will be uncovered next!
Future of the Brass Band Archive
The current project is just another stage in the life of the Brass Band Archive.
In the long-term, we are hoping to undertake a large-scale digitisation project, which will improve access to the sheet music library. We are also planning to undertake outreach (such as exhibitions and lectures) to provide educational opportunities and enable greater engagement with the Brass Band Archive.
As the collection undergoes a cataloguing process, it will become more accessible to a greater number of people and be available for use by the banding community, researchers, family historians and anyone who is interested in the history of brass bands.
If you've read this far, you must be as enthusiastic about brass band history as we are. Here's how you can stay involved in the project:
Register your interest in visiting the Archive at its new residence in Heritage Quay later this year.
Email us at info@bbe.org.uk about volunteering at the Archive.
Discover more about the Brass Band Archive in our #Archive30 Twitter thread.
See images of objects from the Archive on the Brass Bands England Instagram.

Sarah Moses and Michaela Senkova are Archive Project Officers for Brass Bands England.
(Header image cr. Lorne Campbell / Guzelian)