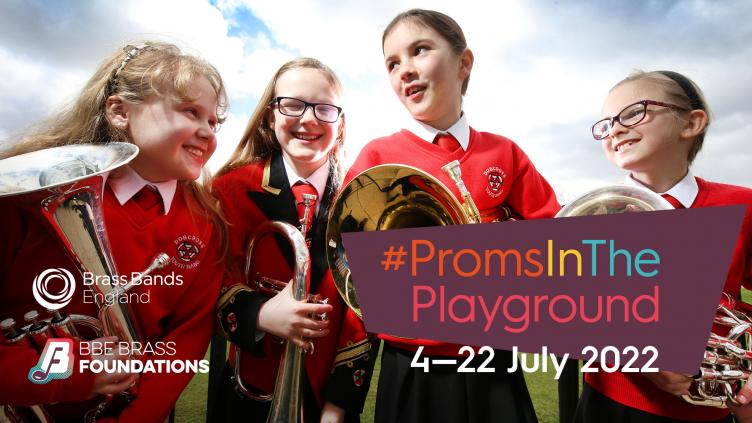 Friday, 25 February, 2022
#PromsInThePlayground - What's it all about?
From 4 - 22 July we are encouraging community bands to connect with their local schools by offering a performance in their playground. As well as getting young people excited about brass banding, this initiative will help bands forge and strengthen relationships with organisations around them. Want to go beyond just a performance? Why not offer a taster session so school children can learn about the opportunities in your brass band? School's Summer calendars get booked up quickly, so now's the time to book in your performance!
Why should my band participate?
As well as getting young people excited about brass banding, this initiative will help your band to forge and strengthen relationships with organisations around you. It's also a chance to:
Participate in a national initiative
Benefit from #PromsInThePlayground promotion from Brass Bands England
Make new connections for your band
Gain free advice and support from the BBE Brass Foundations team
Support the players of the future
And be a part of an enthusiastic community of musicians and educators across the country!
What happened last year?
Our Proms in the Playground initiative was featured BBC World at One, presenter Jonny Dymond said: "For many kids last year the end of school was a pretty miserable affair, devoid of the kind of events that might make for lasting memories. This year it will be very different."
The initiative was also featured in a number of popular publications including the iNews paper and School House magazine. iNews journalist, Will Hazell, said of the project: "With the coronavirus, music rooms and performance spaces have been eerily silent, hushed by social distancing restrictions. But the silence is finally coming to an end. Communities across the country will explode into glorious sound emanating from some unconventional concert venues – our school playgrounds."
How can Brass Bands England help?
Brass Bands England will be providing support to help you with your summer activity. 
For Brass Bands England members, recordings of our previous webinars led by the Brass Foundations team are available in the Members Resource area, including our Contacting and Building Relationships with Schools resource which is perfect to get you started.
Music Education Hubs
BBE also encourages bands to use this opportunity to engage with their local Music Education Hub to make them aware of the opportunities you're offering to schools in their area and to make them aware of you! You can find contact details of your local Music Education Hubs on the Arts Council website.
How To Follow
Just use the hashtag #PromsInThePlayground across your social media channels!
We want to hear from you, and support your in your Proms in the Playground journey. Fill out this google form to register your event. You can also tag Brass Bands England on Facebook, Twitter, Instagram and LinkedIn.
If you're a school that wants to find a band in your area, or if you have any questions about Proms in The Playground please contact BBE's Education and Development Manager Sarah Baumann on sarah@bbe.org.uk, or your local Youth Development Brass Specialist.