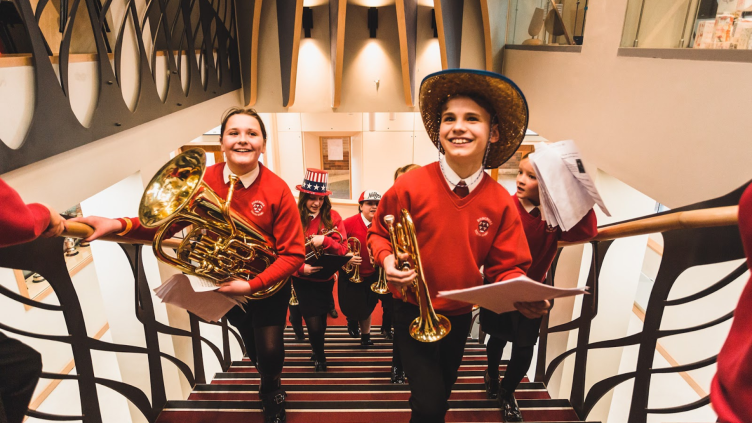 A new annual Brass Band Week is to launch in July 2024 with the aim of raising the profile of brass bands nationwide. The campaign, to be coordinated by Brass Bands England (BBE), will encompass one full week and span two weekends, with the first Week taking place from Saturday 6 - 14 Sunday July 2024.
Brass bands from all UK nations, including members and non-members of BBE, will be invited to register their events as part of the Week in order to benefit from a range of promotional activities. A large-scale marketing campaign will offer free advertising, event listings distribution and social media support to bands who include their event, whilst a centralised PR campaign will work to highlight the many benefits of participating in and supporting local brass bands.
Community bands, youth bands and contesting bands are all able to take part. Advice and support will be available to those wishing to put on a special event for inclusion in the Week, and bands are also encouraged to submit events from within their existing programme which are due to take place within the dates.
This national brass band advocacy activity builds on previous BBE initiatives including the #SaveOurBrassBands fundraiser, and the annual #BrassBandsAtChristmas campaign run in partnership with Crowdfunder UK. Brass Band Week will also overlap with BBE's popular #PromsInThePlayground campaign, which sees bands visit local schools to perform to young people in their communities.
New resources will be created to support those participating and a free detailed marketing and audience development toolkit will be made available to all that register.
Michael Kilroy, BBE Chair, commented:
"Imagine a UK-wide festival of exciting brass band events for people of different ages, backgrounds and interests, offering the opportunity for new audiences to discover the joy of a brass band through hundreds of events in parks, concert halls and on local high streets. Now that's something I'd love to be a part of!
"I hope that as many bands as possible will be able to take up this opportunity to widen their reach by participating, for free, in this new national campaign. Lots of work will be happening centrally to promote your event without you needing to lift a finger. But, of course, your local connections are vital, so we'll also be launching some brand new marketing resources to support you to strengthen links in your own community. Together, we can make more of an impact to shine a light on the brilliance of brass bands."
Bands are asked to save 6 - 14 July in planning calendars now. Bands will be able to register events from early 2024. Register for the BBE newsletter to be notified when registration opens. Until then, BBE member bands can still promote their events year-round via their BBE member dashboard.
Brass Band week is made possible by funding from Arts Council England.
Image credit: Dan Johnson