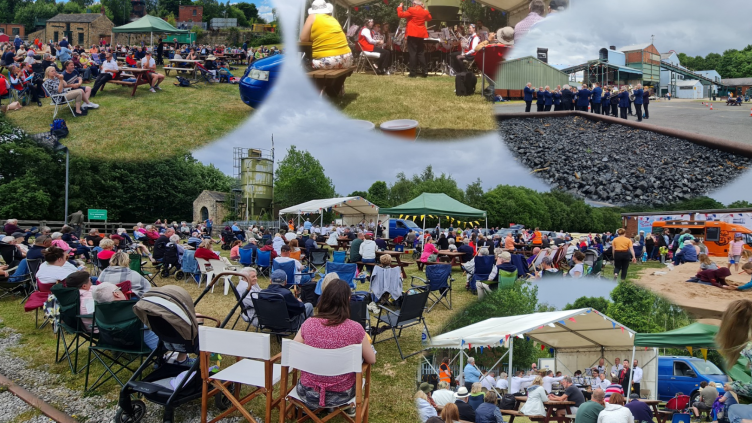 Bold as Brass, the new contest at the National Coal Mining Museum in partnership with Brass Bands England (BBE), got off to a flying start over the weekend. Six Bands took part in the contest that aims to show the modern face of brass bands within the context of bandings' industrial past. 
The format of the contest plays with the idea of a traditional March and Hymn Contest, creating a brilliant day out for both the public and bands. The spirit of Whit Friday was captured as bands were given 6 minutes to play whatever and however they like, followed by a separate 20 minute Entertainment set. The format and setting clearly proved popular with the public, with over 730 people in attendance meaning the museum site was at near capacity and bands played to a great audience enjoying every minute. 
Bands took this to heart, with some bands choosing to play standing still and others marching. Whilst this time there was no band playing a non-traditional set, the format meant that everyone could fully take part. The top spot for the March went to the Shirland Miners Welfare Band, who were commended for the overall polish of the performance presentation as well as fine musical playing. As no band chose to play a non-traditional march, the award was instead given to the band with the best solo which came from the bass section of Enderby Youth Band, who were particularly commended for their full sound by adjudicator Matt Ryan. 
The Entertainment set proved particularly popular with a full audience, to the point that deckchairs were at a premium! The beer tent was in full flow and the Twisted kitchen food van was consistently busy. The blacksmiths making musical souvenirs kept the audience busy and satisfied. 
The adjudicator team was Sheila Allen, one of BBE's Brass Foundations Specialists, looking at the music, and Martin, one of the Museum's ex-miner guides, looking at Entertainment. Both commented on what an enjoyable afternoon they had with every band helping make a great atmosphere. 
While the wind proved a challenge throughout the day, the weather stayed dry until just after the last band finished playing whilst the results were being collated.
The final results were:
| | |
| --- | --- |
| Best Overall Performance | Shirland Miners Welfare |
| People's Prize | Dodworth Colliery |
| Most Entertaining Performance | Shirland Miners Welfare |
| Best Musical Performance | Shirland Miners Welfare |
| Best March Presentation | Shirland Miners Welfare |
| Best Solo or Group Feature | Shirland Cornet trio, Flugel and Bass |
| Best Overall 3rd or 4th section band | Dodworth Colliery |
| Best Youth Band | Enderby Youth |
| Best March Solo | Enderby Youth Bass section |