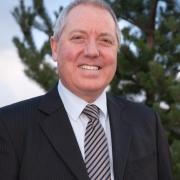 Mike started his musical career when he began playing the tenor Horn with the Delph Band aged 8, progressing to solo euphonium five years later. Aged fifteen, on the recommendation of Geoff Whitham, he joined the legendary CWS Manchester Band led by the great conductor and teacher Alex Mortimer. During his long playing career, he has been principal euphonium of Yorkshire Imperial Metals, Leyland DAF, Fairey Band, Grimethorpe Colliery, Brighouse and Rastrick, Desford Colliery, and YBS.
He has appeared with many of the country's top bands and has featured as a soloist at gala concerts and festivals across the world. Mike has won many accolades throughout his playing career, a highlight being awarded the "Outstanding Instrumentalist" at the 1999 New Zealand National Brass Band Festival. Over the past ten years or so he has adjudicated numerous competitions in Europe and the UK. Mike has also recorded three solo albums with his lifelong friend and duet partner, New Zealand's most decorated brass player, Riki McDonnell who sadly passed away in 2018.
Mike is the current Chairman of Brass Bands England. He is dedicated and determined to ensure that the organisation is, and remains, focussed on providing the best possible support to every brass band in this country and beyond. He is extremely proud of the organisation's progress and aspires to continue to make a positive contribution to the Brass Band Community which has played such an important part in his life.
In his commercial life, Mike has a multitude of business interests. He is Managing Director of a successful business strategic development company and also Managing Director of a specialist lighting manufacturing business that exports products to over thirty countries across the world.  Early in 2019 Mike joined the board of a large leisure-focussed business. All of these companies are based in Yorkshire.