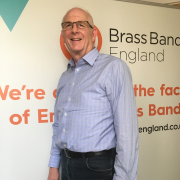 Married with three daughters, Gary is familiar to many through his long-established relationship with Wardle High School, Rochdale and more recently as Administrator for the Action Medical Research Youth Brass Band Entertainment Championship.
Gary's involvement in banding began at the age of 13 years when he was introduced to the cornet and joined the Heywood Old Brass Band. He continued to play cornet with various local bands until moving to Kent where he trained as a teacher of PE.
Always keen to support talented young musicians, Gary, and his wife Monica, are trustees of the NYBBGB and lead the house staff at the National Children's Brass Band of Great Britain providing a lively programme of activities to engage the young players between rehearsals.
Gary's longstanding association with Wardle High School motivated his commitment to youth banding, and now drives his passion for the development of brass banding in the 21st century. His vision sees commitment to brass banding's rich heritage, engaging with the diverse genre and technologies that appeal to our talented young musicians.
Involvement with the Action Research Festival, The National Youth Championships and the National Children's Brass Band of Great Britain are ways in which Gary keeps in touch with the views and opinions of Youth Bands.
In 2007 Gary was awarded the Mortimer Medal by The Worshipful Company of Musicians - services for the teaching of young people in the brass band movement.
Gary became a member of the British Federation of Brass Bands in 1998 and with 21 years' continuous service is now a trustee of Brass Bands England.
Gary has dedicated his life to Wardle High School and to the development of opportunities for young people in banding throughout Britain.  He retired gracefully in 2012 to commit his time further to the development of the Brass Band scene.