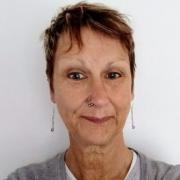 Julie Hoggarth – Director and co-founder of Drum and Brass C.I.C.
Julie Hoggarth has spent over 10 years working intensively within the community music scene in Leicester. She has been an advocate focussed from the outset in exploring (and incorporating less traditional) approaches to teaching brass-based programmes and in establishing and running youth bands. Julie came to brass playing in 2000 from a teaching background. She co-founded the social enterprise Drum and Brass in 2015 with tabla player Hari Trivedi and established the community band Brass of the Saff in 2018 in collaboration with Marriott Primary School, The Leicestershire Schools Music Hub and Southfields Concert Brass Band.
Prior to this, she co-founded Wigston Enterprise Band with Richard Stone in 2007, the Wigston Horizon band in 2011 and the Magna Music Band in 2013. Her priority is to increase accessibility to brass playing across the spectrum of income, ability, race and gender in recognition of the clear benefits of brass bands to individuals and to communities.
The Brass of the Saff is a community-centred band with an ethos embracing all of these ideals. With the help of funding from Youth Music and a successful crowdfunding campaign, the band is developing new audiences and commissioning new music for brass bands. Julie plays 2nd cornet for the Southfields Concert Brass Band and guests with local bands including the Not so Big Band and Cosmocular ensembles and she collaborates in the running of the West End Creatives Leicester Community Arts networking initiative. She co-composes music with the Drum and Brass ensemble and is also a visual artist in her own right.