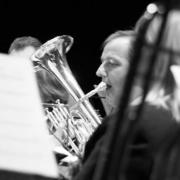 Nigel's passion for brass banding was born at the tender age of five when he blew his first blow in the Young Peoples Band of the Salvation Army at Hastings Citadel. He subsequently had many happy years at Worthing Citadel with whom he toured much of the UK and parts of Europe as part of their evangelical work. His secular playing began with Horsham Borough Band, where he later took the Principal Cornet seat before further enjoyable years at Uckfield Concert Brass and Chichester City Band. However Nigel's home for nearly 20 years of his playing career has been Friary Brass Band where he sat in the Solo Horn chair from 2005 to 2016. 
His professional career spans a large number of senior leadership and managing director level roles in the energy sector in the UK, Europe and Asia, specialising in directing large-scale organisational change and multi million pound Information Technology programmes. He retired from Edf Energy in 2013 to set up his own energy IT consultancy company. 
As long time Friary Chairman, Nigel has helped lead the band as its success and reputation has steadily grown, qualifying for the National Brass band Championships of Great Britain in each of the past seven years, and Regional Champion for the past five. 
He is currently the Finance and Commercial Director of the Brass in Concert Championship but he comes to Brass Band England with a particularly focus on project managing the delivery of the European Brass Band Championships at Symphony Hall Birmingham in 2022.