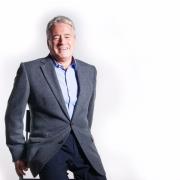 Paul Beaumont learned to play the cornet at school and was a member of the Hammonds Sauce Works Junior Band from being 11 years old; his sister Lynn was a horn player in the same band. From Hammonds he joined Yorkshire Imperial Metals, under the baton of Trevor Walmsley. In 1976 Paul married Julie, a cornet player with Mount Charles Band in Cornwall, and they both joined Hebden Bridge Band, Paul as principal cornet and Julie as soprano cornet. Paul and Julie both reluctantly stopped playing when they started a family and Paul was travelling extensively for business.
Professionally, Paul has enjoyed a career in the technology market, running a number of large, global businesses with revenues of up to half a billion dollars including companies such as Motorola and Gandalf Technologies.  Paul is a renowned technology entrepreneur and has successfully completed four startups and eight turnarounds in the global technology sector including the USA, Canada, Russia, Africa and the Middle East. Now semi-retired, Paul sits on several company boards and mentors MD's and CEO's of high growth businesses.  
Paul became President of Brighouse & Rastrick Band in 1999 and during his 18 years in that position saw B&R win 3 National titles, 5 Yorkshire Regional titles, a brace of victories at Brass in Concert and the All England Masters competitions and unparalleled success at the Whit Friday March contests; he was also instrumental in forging artistic links with groups such as The Unthanks and New York-based vocalist Joy Askew.
Paul and Julie live in Elland, near Brighouse and spend a considerable amount of their time in Scotland and Dubai where they have family and grandchildren.