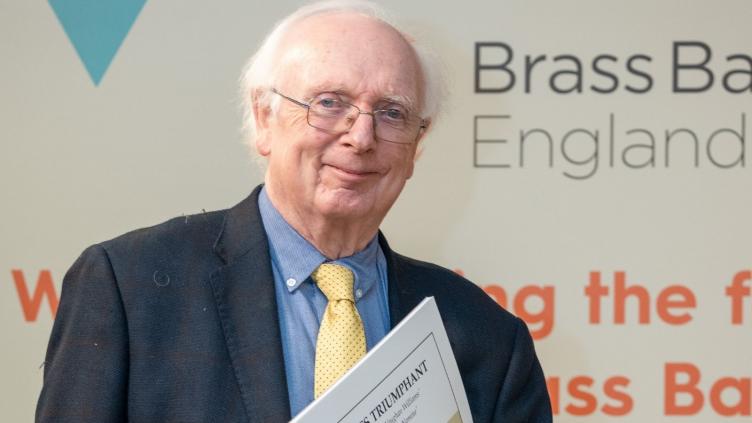 With the European Brass Band Championships (EBBC) set to take place this weekend in Birmingham, now's your chance for an in-depth look at the Championship Section set test-piece, Saints Triumphant, written by Professor Philip Wilby.
In a talk released on our Brass Bands England YouTube channel, the composer presents his new work in conversation with Paul Hindmarsh, Chair of the European Brass Band Association Music Commission.
The full piece will be premiered this Saturday at Symphony Hall, Birmingham, where those attending will be able to watch the pre-recorded talk on-screen at 3.15pm, ahead of the start of performances from competing bands. The film has been released online ahead of the event so that the full banding community can discover more about this outstanding new work.
Diversions on Vaughan Williams' hymn tune 'Sine Nomine'
Saints Triumphant: Diversions on Vaughan Williams' hymn tune 'Sine Nomine' has been commissioned by Brass Bands England for this year's EBBC, part of a wider European Brass Band Festival taking place from this Thursday 28 April - Monday 1 May in Birmingham. Creation of the work has been supported by the RVW Trust in the composer's 150th anniversary year, with the piece paying tribute to the most famous of RVW's own hymn tunes, Sine Nomine.
BBE's pre-recorded composer's talk delves into the original Vaughan Williams hymn, how it has inspired the new work, and the secret to a good test piece for brass band.
A Test Piece to showcase English music
The championship section of the EBBC is the absolute pinnacle of brass band competition anywhere in the world, bringing together national champion bands from across Europe aiming to crown one European champion.
BBE CEO, Kenny Crookston, commented: "We are thrilled to have Philip Wilby as the composer for this year's EBBC set test-piece. Having produced a range of stunning test-pieces for band contests during his career, we know we are in safe hands. Inspired by one of England's greatest composers, Ralph Vaughan Williams, the work provides a fantastic opportunity to showcase our own musical tradition to international colleagues and visitors. With a premiere at the EBBC, we are guaranteed an afternoon and evening of exceptional performances and a musical work that will thrill bands and audiences alike. Well worth a trip to Birmingham if you haven't yet got your tickets!"
Join us in Birmingham
Philip will also be one of the adjudicators for the European Composers Competition this Friday evening 29 April in Birmingham, featuring some fantastic brass band compositions from the best of Europe's young composers.
Tickets for the Championship Section Set Test-Piece can be purchased via the B:music website or you can grab a deal with one of the remaining Combi Tickets for the whole Championship weekend.
You can join the conversation online using the hashtag #EBBF or #RVW150.
Watch the film below and make sure to subscribe to the Brass Bands England YouTube channel for further films, talks and webinars.
...