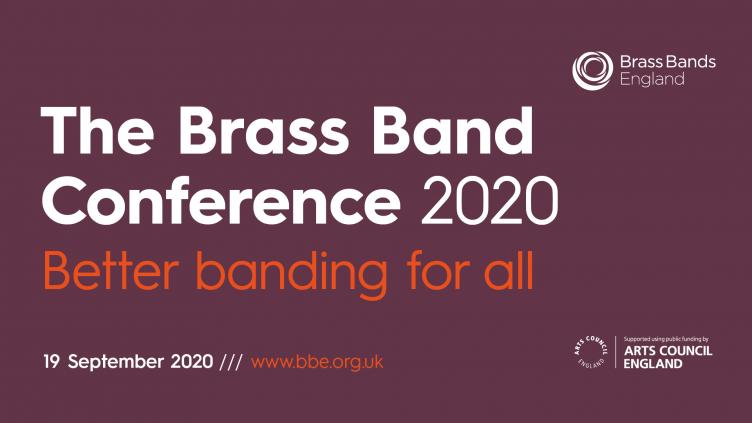 On Saturday 19 September, Brass Bands England (BBE) will present The Brass Band Conference 2020 online. The conference will take on the highly pertinent theme of Resilience and Sustainability, and aims to explore new ideas and highlight proven success in building bands and banding communities that will survive and thrive as we emerge from the Covid-19 pandemic.
Our speakers have a diverse range of expertise, insight and experience. We are delighted that Darren Henley, Chief Executive of Arts Council England (ACE), will highlight the importance of Resilience and Sustainability as our keynote speaker.
Amersham Band has gone from strength to strength through creating an effective and sustainable brass band community and we've invited the band's Chairman, Fred Harrison, to share his vision and experiences in building this innovative and exciting project.
Once again we will be opening up our online forum for a panel discussion on The Challenges of Building a Sustainable Youth Band, with invited guests from a range of banding arenas - confirmed panellists will be announced in the coming weeks.
A session on Band Resilience will be led by BBE's Alex Parker and ACE Tech Champions will help you sustain your band by propelling your digital marketing and social media presence to a whole new level.
This conference is aimed at anybody with any involvement in banding at any level. BBE's AGM will be held prior to the start of the conference and the day will come to a close with a wrap-up session and announcement of The Brass Band Conference Awards. For more information about the Brass Band Conference Awards and to make a nomination, please visit: https://www.bbe.org.uk/what-we-do/brass-band-conference-awards
Registration for the Brass Band Conference will be via the BBE website and the event is free to all. Further details of the programme and the opening of registration will be announced in due course.
Speaking about the Brass Band Conference, BBE's Chief Executive Officer, Kenny Crookston, said: "There have been obvious challenges in bringing together this year's Conference in an effective way, but we are delighted to be able to offer a programme that has the potential to add value to every organisation in the banding world. We look forward to as many people as possible joining us online on 19 September!"
The Brass Band Conference 2020 will take place online on Saturday 19 September 2020. Registration will be opened towards the end of June via the Brass Band England website - www.bbe.org.uk/events and access is free to all.