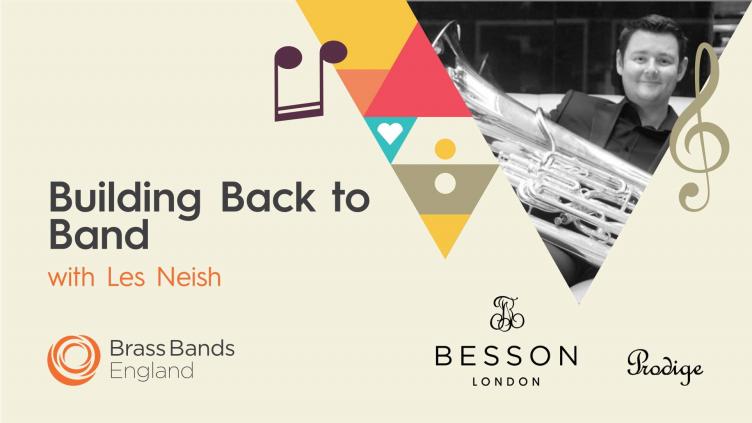 Soloist, chamber musician, and educator Les Neish will be joining Brass Bands England (BBE) for a webinar to support building up playing ability for a return to the bandroom. The event will take place via Zoom on Tuesday 25 May at 7pm.
Leading wind instrument manufacturer Besson is supporting BBE's Online Development Programme, a series of webinars designed to encourage and develop the skills of brass players and bands.
Broadcast fortnightly, the webinars focus on different elements of performance, artistic direction, and band governance, and have so far included a range of guests, including other Besson artists such as Sheona White.
The series will now feature soloist, chamber musician, and educator Les Neish. As the first tuba player to be awarded the Worshipful Company of Dyers Award at the Royal Overseas League Competition and performing the first solo tuba recital at the Bridgewater Hall, Manchester, Les has always pushed the boundaries leading him to a performance at Millennium Park, Chicago and recording with pop star "Sting".
Les is a tuba tutor at the Royal Northern College of Music, RNCM Junior School, Salford University, Birmingham Conservatoire, Huddersfield University and Liverpool University. He has also given masterclasses at Trinity College and Royal Academy of Music, London.
With meeting and playing together as a band being closer on the horizon, Les will be focusing on building up playing ability after a break. As well as sharing his own experience of taking a break from regular practice during the pandemic, Les will be answering questions on queries and concerns you may have around your return to music-making.
Les will also be introducing his newest project, Insieme, a series of tutorial videos that gives players the chance to learn new repertoire, enjoy tutorial videos from top performers, and then perform with the ensemble in your own home.
This event is free for BBE members and just £5 for non-members.
Book your place for the BBE Webinar
Find out more about the Insieme project