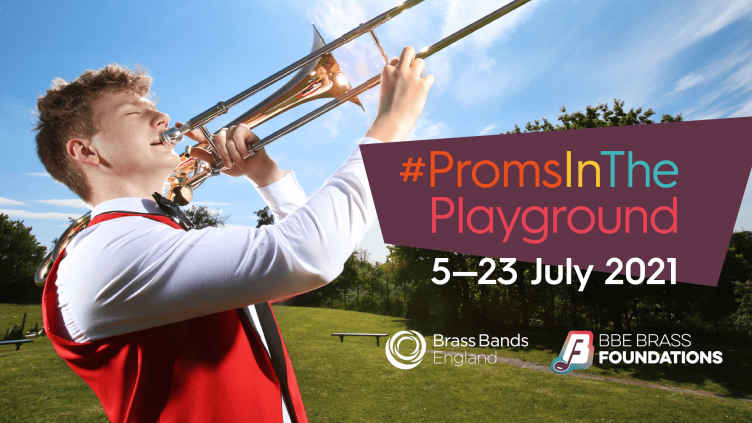 How can you get involved?
After over a year of limited musical activity, with particular limitations on brass playing in many schools, this summer is the perfect time to re-engage with your local community. From 5 - 23 July we are suggesting community bands connect with their local schools by offering a performance in their playground. This could just be a small group of players, and always in line with the COVID-19 restrictions in place at the time. As well as getting young people excited about brass banding, this initiative will help bands forge and strengthen relationships with organisations around them.
Why should my band participate?
As well as getting young people excited about brass banding, this initiative will help your band to forge and strengthen relationships with organisations around you. It's also a chance to:
Participate in a national initiative
Benefit from #PromsInThePlayground promotion from Brass Bands England
Make new connections for your band
Gain free advice and support from the BBE Brass Foundations team
Support the players of the future
And be a part of an enthusiastic community of musicians and educators across the country!
How can Brass Bands England help?
Brass Bands England will be providing support to help you with your summer activity. 
For Brass Bands England members, recordings of our previous webinars led by the Brass Foundations team are available in the Members Resource area, and additional resources helping bands make contact with schools will be available in the coming weeks.
COVID 19 resources, advice and risk assessment templates can be found on the Brass Band England website and will be continued to be updated to support activity taking place over the coming months.
Top Tips & PDF Guide
Providing some helpful tips to support bands, BBE Youth Development Brass Specialist Paul Fisher commented: "Keep it simple, and pick fun music! A short, engaging programme of no more than 15/20 minutes of music is ideal - I'd say four or five short pieces at a maximum. Think about it as a pop-up gig, so for ease consider using lyres rather than having to set up music stands. It doesn't need to come with a big presentation, just a short introduction, and then get on with making some great music for the kids to enjoy!" 
Thanks to our BBE Youth Development Brass Specialist, Sheila Allen, for producing this Proms In The Playground Guide on how to best establish contact and build relationships with schools in your area. This guide is available to BBE members via our member Resources Library.
Music Education Hubs
BBE also encourages bands to use this opportunity to engage with their local Music Education Hub to make them aware of the opportunities you're offering to schools in their area and to make them aware of you! You can find contact details of your local Music Education Hubs on the Arts Council website.
To hear more about collaborations with bands and hubs as part of the Brass Foundations programme, tune into the Brass Bands England Facebook Page on Monday 17 May at 6.30pm for Bring Back the Brass. This week Paul Fisher will be speaking to Ben Stevens, Director of Music at Hertfordshire Music Service about the partnership between BBE and HMS, and their plans for #PromsInThePlayground this Summer.
How To Follow
Just use the hashtag #PromsInThePlayground across your social media channels!
You can start sharing now, even as you plan the event, so that we know you are taking part and can include you in our promotion of the initiative.
You can also tag Brass Bands England on Facebook, Twitter, Instagram and LinkedIn.
 
Any questions about Proms in The Playground can be directed to BBE's Education and Development Manager Sarah Baumann on sarah@bbe.org.uk