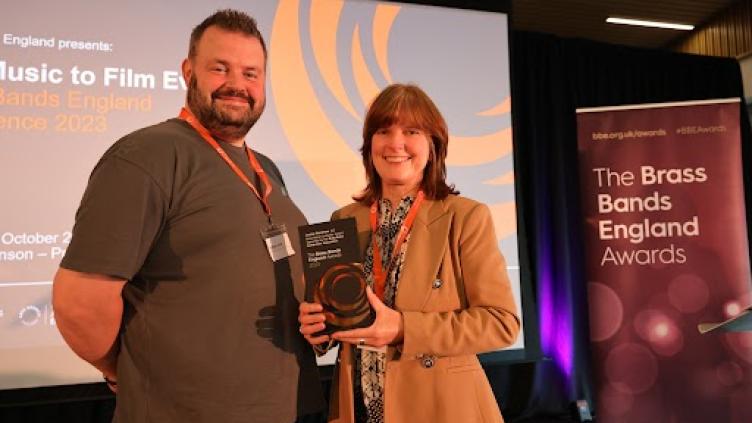 Wednesday, 25 October, 2023
At the request of the Brass Band Conductors' Association, Brass Bands England has added a new 'Brass Band Conductor Award' to their array of awards, supported by the BBCA.
Congratulations go to Louise Renshaw, who was presented with the 2023 award at the Brass Band Conference on Saturday 7 October in Huddersfield by BBCA Chair James Holt. 
Louise is celebrating 40 years of volunteering with youth brass bands in Cheshire, from her beginning conducting the Poynton Youth Brass Band to the founding of Macclesfield Youth Brass Band in 2005. In that time she has dedicated her all to the young people in the bands, supporting every member and offering many opportunities - including helping to fund private lessons for those with disabilities.
Her commitment to Macclesfield Youth Brass Band has seen them rise to success. They previously won Brass Factor and this year came 3rd place in the Championship section of Youth Champs.
James Holt commented: "I am delighted with the introduction of the new Conductor Award to recognise the talent and dedication of conductors to their bands and the banding community. The nominations were of a very high calibre and Louise is a worthy winner".
Nominations for the Brass Bands England Awards 2024 will open early in 2024.
Find out more about the BBCA, or email bbca@bbe.org.uk