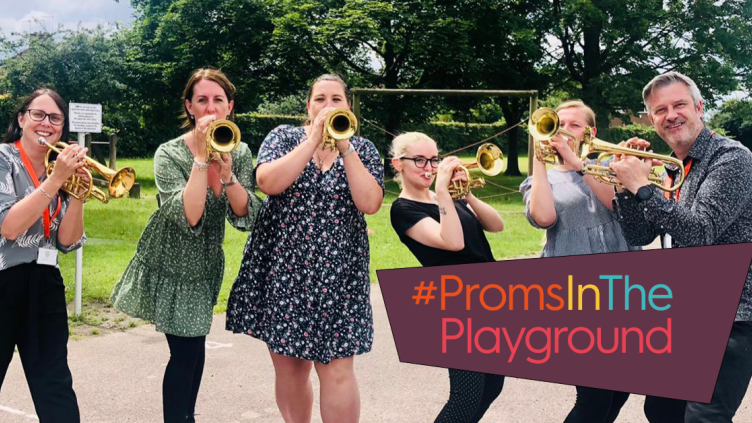 Monday, 27 February, 2023
Returning for its third year is Brass Bands England's summer campaign #PromsInThePlayground. From 3 - 23 July, Brass Bands England (BBE) is encouraging community bands to connect with their local schools by offering a performance in their playground. As well as getting young people excited about brass banding, this initiative will help bands forge and strengthen relationships with organisations around them. For those bands that want to go beyond just a performance, the initiative is an ideal opportunity to offer a taster session so school children can learn about the opportunities in your brass band. As school summer calendars get booked up quickly, BBE recommends you get in touch soon to reserve the date.
It's also a chance for bands to:
Participate in a national initiative
Benefit from #PromsInThePlayground promotion from Brass Bands England
Make new connections for your band
Gain free advice and support from the BBE Brass Foundations team
Support the players of the future 
…and be a part of an enthusiastic community of musicians and educators across the country!
For 2023, the Brass Foundations team has developed a selection of resources for schools and primary-aged pupils to add to the experience of a band visiting their school. The resource pack includes a number of curriculum-linked activities to help educate young people about brass banding and all it has to offer.
BBE Youth Development Brass Specialist Sheila Allen commented: "We don't want your band's visit to your local school to be a one-off event without any prep or follow-up. So that brass bands and brass band music can continue to be recognised as a valuable part of the musical landscape in your area, we have prepared some free teaching resources which will enhance and embed the whole experience, not only in the school calendar but, much more importantly, in the school's music curriculum."
The Brass Foundations team will be launching these resources at BBE's upcoming webinar Planning for Proms in the Playground | Thursday 27 April | 7PM at which there will also be an opportunity to discuss tips and ideas for your performance. This is a free session for any members or non-members of BBE.
For any schools wishing to find a participating band in your area, or if you have any questions about Proms in The Playground please contact BBE's Education and Development Manager Sarah Baumann on sarah@bbe.org.uk, or your local Youth Development Brass Specialist.