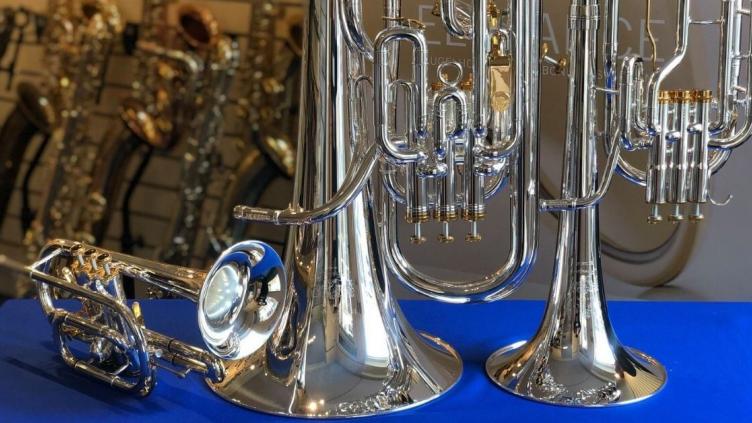 Wednesday, 14 April, 2021
Band Supplies is one of the UK's leading suppliers of brass and woodwind instruments and accessories. They're also a partner for our Brass for Brass competition, providing a voucher every month for our competition winner.
As one of the go-to suppliers for brass musicians and bands, the team have seen first-hand the changing needs of musicians during the pandemic. Although their shops in Glasgow and Leeds have been closed, Band Supplies have continued to support the musical community through repairs and servicing, as well as via their online store.
We spoke to Managing Director Ronnie Tennant, who has been running the business since 1979, about how Band Supplies has had to adapt during the Covid-19 pandemic:
"It's been a difficult time for everyone. Bands stopped having the spare cash to update their instruments or carry out repairs. What we did find, is that more people were looking for solo pieces, or music with backing tracks that they could play along with at home.
And teaching has continued throughout, via Zoom. One cornet tutor called us looking for advice on practice mutes - that shows that there's absolutely still a need for that one-to-one service we provide at our physical stores, alongside our online shop."
As the rest of us also prepare to get back to some form of normality, Ronnie has shared with us five ways in which Band Supplies can help you to be at your best for your return to banding…
1. Get your instrument performance-ready
Many of us are currently thinking about bathing our brass instruments for the first time in a while! We stock a range of b# products especially designed to sanitise brass instruments. My top tip is always keep your mouthpiece sanitised, cleaning your instrument 2-3 times a week if you can!
2. Trade in your old instrument
If you're looking for a new instrument, we stock all the major manufacturers including Yamaha, Besson, Elkhart, Jupiter, Conn, King, Vincent Bach, Geneva, JP, Schilke, and many more. Our instruments range from inexpensive student models up to the high-end. If you're buying new, we also give you your first year's insurance cover for free.
We also have a great selection of pre-owned instruments, or if you're looking to give your old instrument a new home, we can help with that too. Just get in touch with your instrument details and we'll give you an estimated value.
3. Update your Accessories
When you return to performing, it's important that the public know that safety has been taken seriously. Research shows that bell covers limit the spread of aerosols in the air, in the same way that a mask does on a person.  Although not strictly necessary outdoors, BBE have recommended they still be used (see Covid-19 Advice & Guidance for Brass Bands) as a means to communicate that safety has been thoroughly considered.
Our most popular bell covers are by Denis Wick and prices start from £2.55 Alongside these, we also stock a range of mutes, mouthpieces, music stands, and many more miscellaneous items!
4. Update your teaching supplies, or have a lesson yourself!
We can provide training books, music bags, or pieces for junior bands. If you're part of a school or music hub, get in touch to see how we can help. We also stock a full range of plastic instruments including the pBuzz, PBone and jHorn (in a variety of fun colours, of course!).
Or if you or someone you know is thinking about taking up a new instrument, you can join us for a lesson via Zoom. Get in touch to find out more.
5.Get your band ready for outdoor performance
One unique thing about Band Supplies is that we're fully set up to provide specialist marching band equipment and instruments. From cymbal straps to drummers gloves, and everything else in between. Have a browse of our website or get in touch if you're after something specific. I don't know about you, but we're really looking forward to getting back outside as a band, once restrictions allow!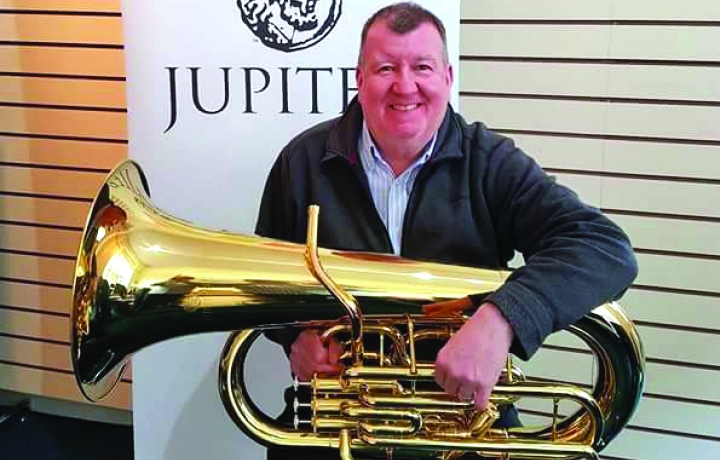 With thanks to Band Supplies for supporting Brass Bands England's monthly Brass for Brass competition.