The winners of this year's Brass Bands England Awards have been revealed at the Brass Band Conference on Saturday 25 September.
Awards were presented virtually to winners in six categories by BBE Chairman Mike Kilroy following selection by the Brass Bands England board of trustees and initial nomination by the banding public.
The Awards exist to give credit to those who have made an exceptional contribution within the banding community and the wider community within which brass bands operate. Be it through leading innovative creative projects, bringing about positive social change, championing inclusion and diversity, or inspiring a new generation of musicians.
Award Categories cover social impact, innovation, services to youth, and a lifetime achievement award. Plus the introduction of two new categories for Outstanding Contribution (including one for young banders), which recognises those working tirelessly for the benefit of their organisation and its members, conquering challenges, or going above and beyond for their band.
BBE Chairman Mike Kilroy said: "There is plenty to be recognised and celebrated within our wonderful sector and I'm absolutely thrilled to be able to present these awards today in front of our virtual audience. I'd like to thank everyone who submitted a nomination – in these challenging times it is more important than ever that we reflect on and celebrate good practice within our community. If you can, do visit the BBE website to find out more about the activities of our winning individuals and bands."
And the winners are…
Brass Bands England Innovation Award: John Ward
Brass Bands England Social Impact Award: Astley Unlimited Band
Brass Bands England Outstanding Contribution Award: Samantha Harrison
Brass Bands England Outstanding Contribution Award (18 and Under): Matthew Hurst and Olivia Hurst
Brian W Hicks Memorial Shield for Services to Youth: Julie Allen MBE
Brass Bands England Lifetime Achievement Award: Richard Evans
Winners in detail
Brass Bands England Innovation Award
John Ward, Musical Director of Fulham Brass Band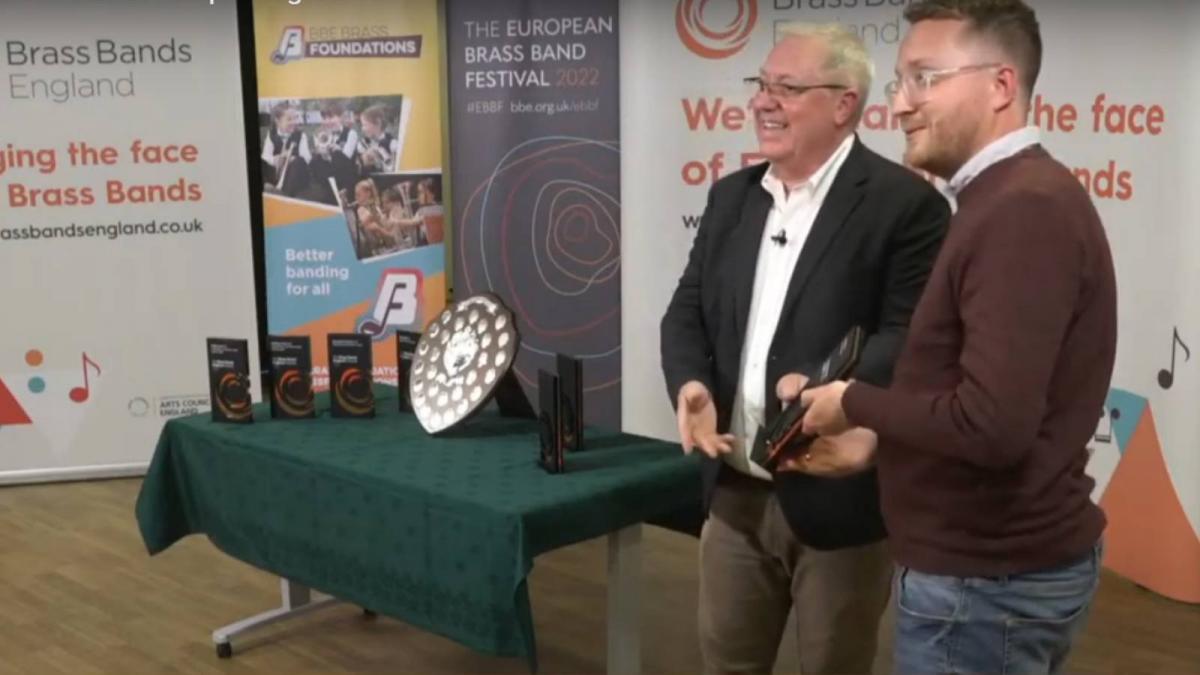 John has almost single-handedly kept his Brass Band together throughout lockdown, hosting weekly inspiring Zoom sessions on band evenings featuring a huge breadth of musicians from all walks of music.
These musicians include Ray Farr, Bramwell Tovey, David Childs, Roger Webster, Sheona White & James Gourlay. Also, musicians whose influence goes far beyond brass banding, Jeremy Deller, Anna Meredith & Bruce Broughton.
Many of these sessions were streamed to the broader banding community, the sessions with Jeremy Deller, Dave Thornton & Simone Rebello were organised in partnership with Brass Bands England and Arts Council England.
Periodically, the sessions also included performance evenings to keep everybody playing, including an Arban challenge evening and a slow melody night.
In addition, John has led a funding application for an equality, diversity and inclusion project, and organised a Christmas concert video with guest soloist Maxine Kwok and locally born hosts, Konnie Huq, Sebastian Coe and Paul Merton. The video achieved over 2,000 views online.
Thanks to his efforts, the band haven't lost a single member during this period, apart from those who have moved out of the area.
Brass Bands England Social Impact Award
Astley Unlimited Band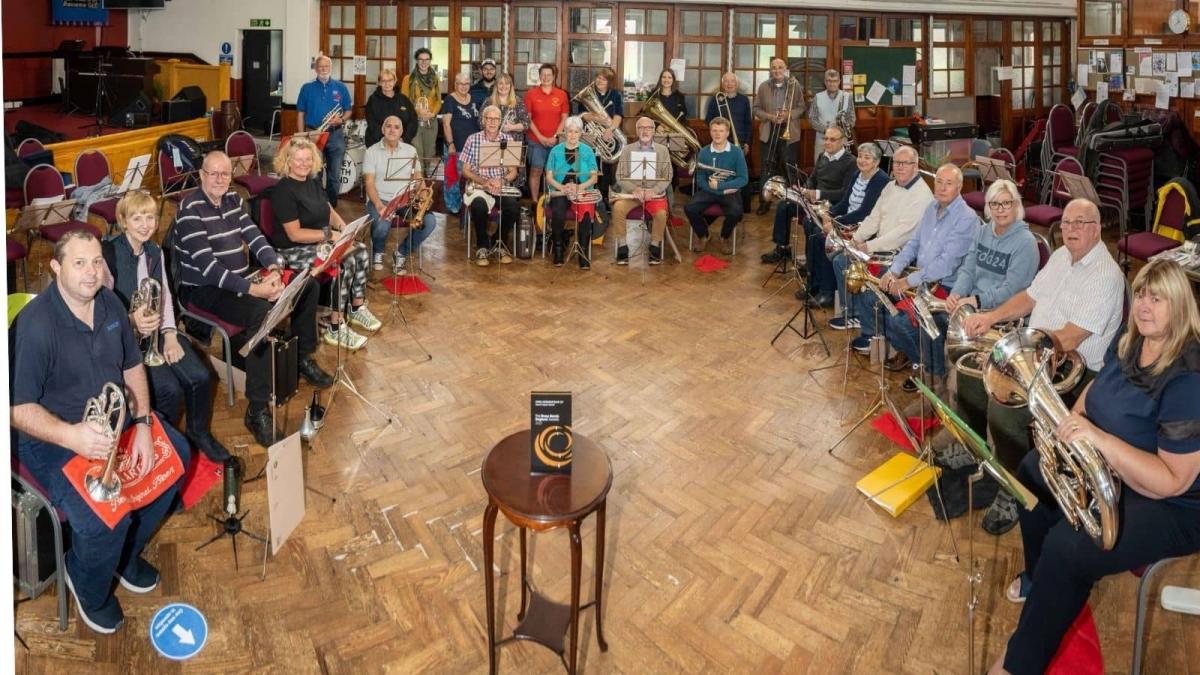 An exemplar of connecting with the community, Astley Unlimited Band was formed six years ago to cater mainly for retired people in the 60+ age group, shift workers, and those currently not working.
The band, consisting of around 35 regular members aged from 18 - 88, rehearse on Monday lunchtimes. There is a mixture of playing members. Some are experienced, having played in bands all their lives, others who have rediscovered their passion for banding sometimes after 30 or 40 years, and beginners of all ages.
It became clear that there was a need for musical opportunities for non-instrumentalists and three years ago a choir was founded. Both ensembles are supported by a team of four highly skilled musical tutors/volunteers. There is now a thriving community hub on a Monday morning where everyone is welcome, regardless of ability or experience, hence the name.
The availability of daytime music making has had a positive impact on the local community, reaching out to people who may otherwise feel lonely and isolated, and providing them with the opportunity to learn and develop their skills, by sitting side by side with experienced musicians. Daytime performance opportunities for older audiences have also become established in the calendar, including small group visits to care homes, and carolling events.
During the last year the band has kept in touch and rehearsed on Zoom, with individual support available for those who are less confident using technology. Band members have looked after each other, with offers of shopping being done, prescriptions collected, dogs walked and regular emails and phone calls to check members' wellbeing.
A shining example of what can be achieved if bands reach out and connect with their community.
Brass Bands England Outstanding Contribution Award
Samantha Harrison, Elland Silver Band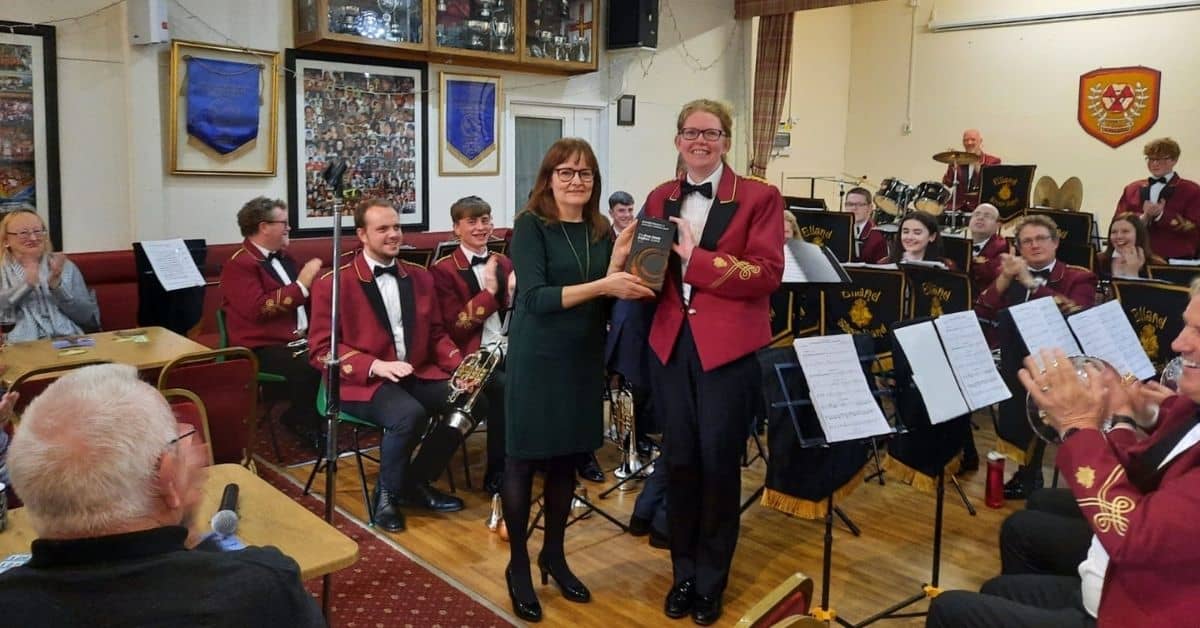 Samantha has shown outstanding dedication and commitment to Elland Silver Band for many years, dedicating many hours to teaching youth and adults alike. Not only that, she has also applied for various grants to help keep the band running and is a long-term dedicated player for the group.
Throughout the pandemic, Samantha has taught the Elland youth bands and adult community bands remotely and in doing so has learnt new technical skills which has enabled them to stream videos and concerts. Despite not being able to meet in person, all the groups have made remarkable progress.
Over the years, Samantha has made a positive impact on many young players and this in turn has had a positive impact on Elland as they have created a quality pipeline of players that have successfully transitioned into adult bands around the area.
Brass Bands England Outstanding Contribution Award (18 and under)
Olivia and Matthew Hurst, Lostock Hall Memorial band and the Lancashire Youth Band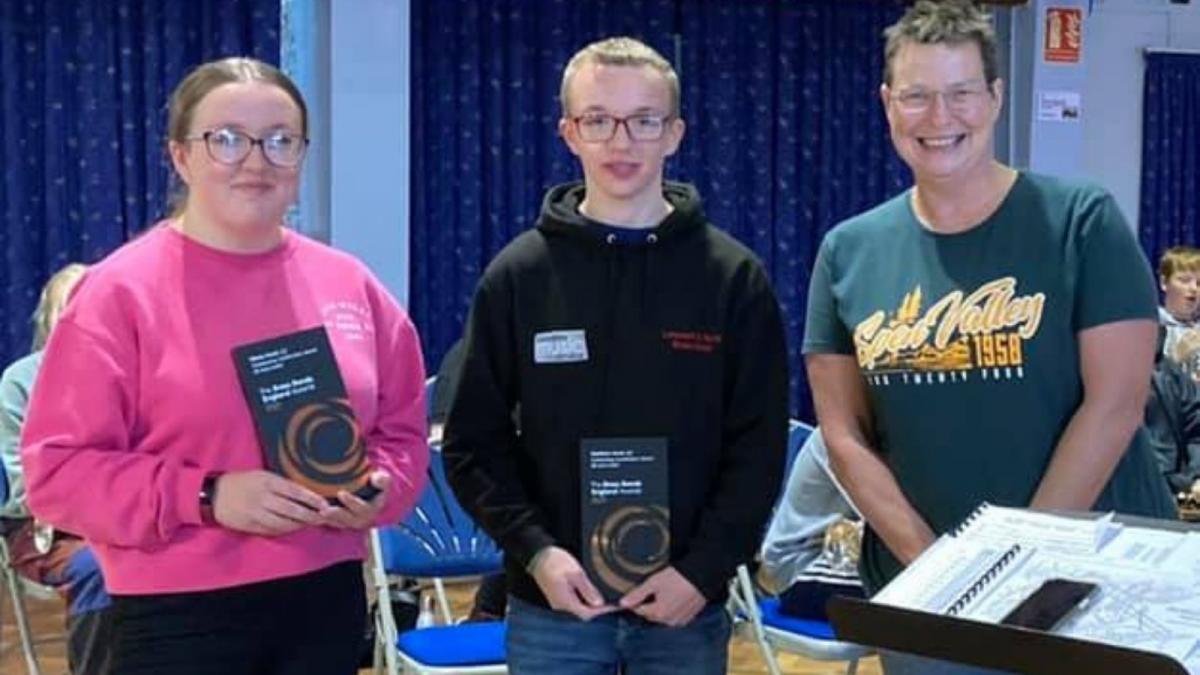 This year the Outstanding Contribution Award for young people will be shared. The BBE Trustees shortlisted two nominees but, in the end, could not split them, so a dead heat was declared.
Both are highly committed and extremely dedicated players, valued member of their bands. Throughout the last difficult year, they have remained positive and focused, and been a shining example to their fellow band members. They have maintained a regular practice routine with enthusiasm and determination and have participated in weekly and fortnightly rehearsals on Zoom and enjoyed the virtual Brass Band Summer School.
Frustrated at not being able to play carols at Christmas, they both offered to play on driveways in their local community, to raise funds for East Lancashire Hospice. They gave 33 performances throughout December and raised over £5,000. They have both completed several recording projects, including a beginner instruction video for the Scottish Brass Band Association.
An amazing effort by this young duo, who must make your band colleagues, friends and family extremely proud. They certainly touched the hearts of the BBE Trustees.
Brian W Hicks Memorial Shield for Services to Youth
Julie Allen MBE, Birkwood Primary School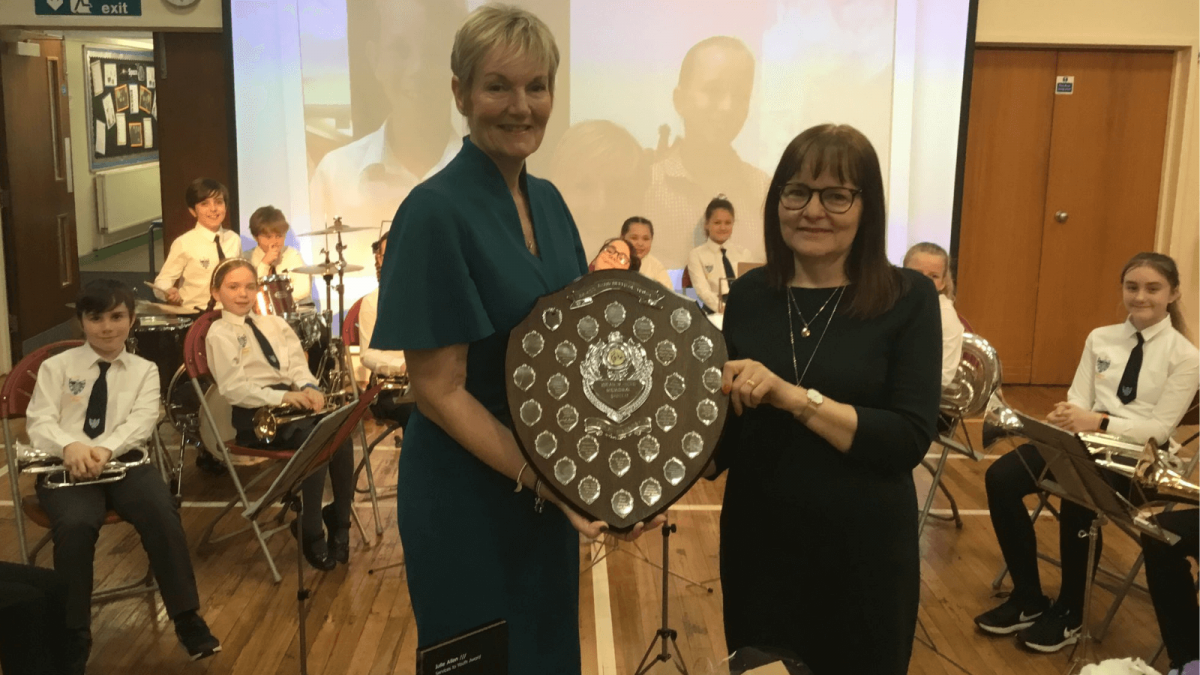 Julie has put music at the heart of her school, believing passionately about the positive impact it can make to both school life and the local community.
Evolving from a successful whole class project over ten years ago, Julie encouraged and funded pupils to continue to play. She paid for musical exams and started a school brass band with the support of the local music service, school staff and an inspirational local band. She encouraged and funded the school band to enter the National Youth Championships and was passionate in ensuring the players were able to continue their journey at secondary school.
Julie has the respect of the school and the local community, leading her school to be rated Outstanding and championing the impact music has made. She celebrates all musicians and gives them the self-belief to be the best they can be. She has hosted concerts by Grimethorpe in the school hall, an incredible opportunity for primary school-aged children. She supports and attend all performances and go the extra mile to make everyone feel so valued. Julie retired this summer, following an incredible career, and leaves a legacy of outstanding music making.
Once again, an outstanding example of what can be achieved with a great vision combined with the passion and determination to make it happen.
Special mention goes to their inspirational and supportive local band, Grimethorpe Colliery.
Brass Bands England Lifetime Achievement Award
Richard Evans, Conductor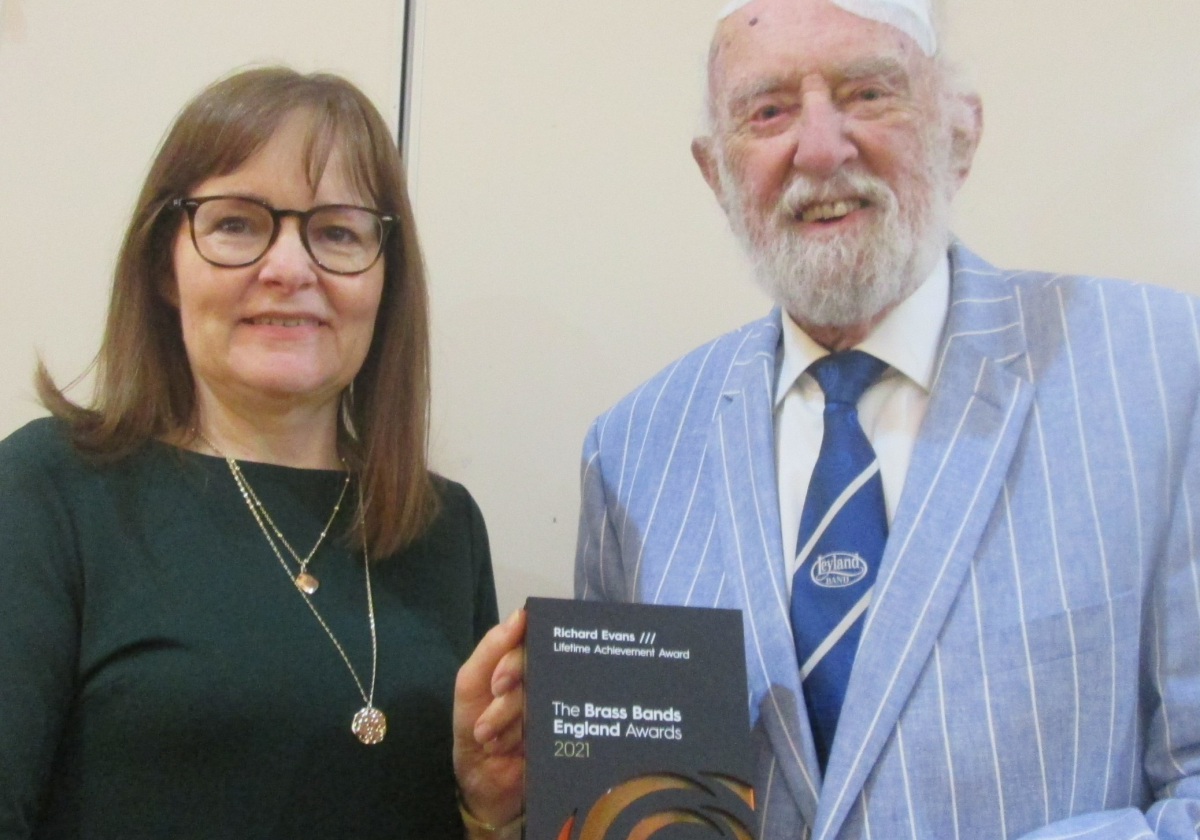 Richard is one of the most colourful and flamboyant characters on the British brass band scene. With a unique ability to instil pride and passion into every player, he is ultimately the driving force behind each band he conducts.
Born in Aldershot, the son of a regular soldier, Richard spent his first two years of life in India. On return to England, the family moved to Preston Lancashire. It was then that he was introduced to the cornet with the British Legion Band.
Leaving this first band, Richard moved to the Leyland Motors Band and studied under founding fathers Harold Moss and William Haydock. He was one of the founder members of the National Youth Brass Band, becoming principal cornet under the direction of the great Harry Mortimer. After National Service, he spent two years with the Black Dyke Mills Band.
Upon graduation from the Royal Northern School of Music, Richard worked as a freelance trumpet player with the BBC Northern Symphony Orchestra, the Manchester Mozart Orchestra, Syd Lawrence, and many other famous ensembles. However, it was in the art of conducting that he would carve out a brilliant career.
1975 was to provide a milestone in Richard's career. While conducting Wigan Cecilian Choral Society, he was asked to audition for the position of Musical Director with the Wingates Temperance Band. He was offered and accepted the position and within three months had won the British Open Championships at his very first attempt.  He continued to gain a reputation for flair and innovative musical direction to the highest standard.
At the beginning of 1978, he was recruited to rebuild the Leyland Vehicles Band with the specific remit of achieving Championship status within three years. The band made history with their meteoric rise to the top of the brass band Championship Section. He is also a Visiting Professor of Brass to Senzoku Gakuen College of Music in Tokyo. Entertaining audiences has been at the forefront of Richard's professional career. Winning no fewer than 9 Brass in Concert titles bears testament to that.
Richard's prowess as conductor, teacher, adjudicator and leader was rewarded in 1986 when he was the recipient of the J. Henry Iles Medal presented by the Worshipful Company of Musicians of the City of London. He has won many accolades and awards over the years not only in competition but by inspiring generations of brass musicians, young and old that he has been involved with.