The Brass Bands Archive is the world's largest archive dedicated to preserving global brass band heritage. Launching in 2023, the archive will be publicly accessible to researchers, brass bands enthusiasts and anyone else hoping to learn from over a century of banding heritage. 
You can access the archive catalogue online or visit the reading room by appointment by appointment on Mondays, Tuesdays and Fridays between 09:00 – 16:30. Until 23 April, you can visit the archive's one-off launch exhibition, Brass Bands: History and Culture. It's open Monday - Friday 9 - 5 and Saturday's 10-4.
About the archive
The archive was started by Walter Ainscough and Alan Marsh, two brass band players and enthusiasts, who maintained the archive out of a flat in Wigan. 
Ownership of the archive was permanently transferred to Brass Bands England in 2018, who have been repackaging and cataloguing the collection so that it can be made accessible to the public for years to come.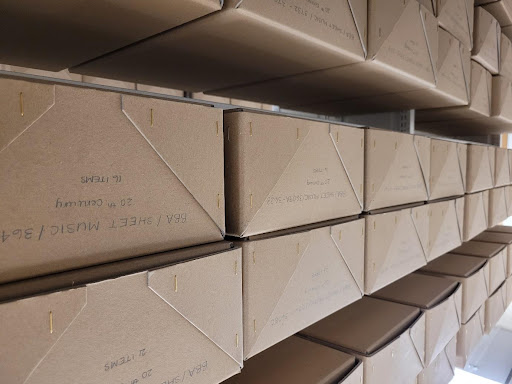 The archive is on deposit at the University of Huddersfield where users will be able to view the archive in their state-of-the-art reading room.
What's in the archive? 
 The archive contains a wealth of material spanning over a century of brass banding history, including:
Sheet music 
Vinyl records
CDs
Programmes 
Journals 
Books 
Uniforms 
Trophies 
The Brass Bands Blog
Read more about the Brass Bands Archive here and learn about some of the incredible histories preserved in the collection, on the Brass Bands Blog.
Donate
Interested in donating to the archive? Find out more here.
Volunteering
Interested in working with the archive? We have a range of volunteering opportunities.
Policies
You can access our archive policies here.