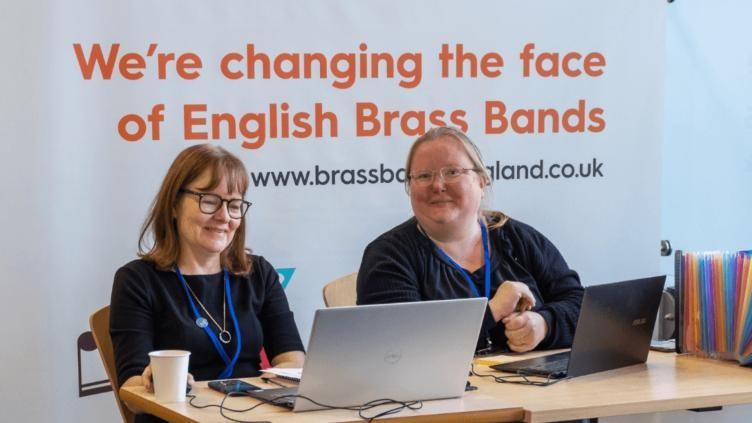 Tuesday, 31 January, 2023
By joining Brass Bands England (BBE) you'll become part of a community of over 500 member organisations encompassing more than 600 bands across England, Scotland and Wales.
There are countless benefits to being a member of Brass Bands England! As well as some big potential savings on insurance and DBS checks, our dedicated staff team run a busy programme of opportunities, year-round, for our network of highly engaged member bands and individuals. To give our current (and potential) members an update on everything on offer, we've grouped our member benefits into the following handy categories. Here's our top ten reasons your band should join BBE
1. Learn new things with BBE training and Events
Talks, workshops, presentations and drop-in sessions take place year-round, both in-person and online. From performance masterclasses to CPD sessions for band leaders, from band governance workshops to networking sessions for brass band conductors, there will no doubt be topics of interest to everyone in your band. Most of these are free, included in your membership. Plus, youth education and outreach has its own dedicated strand of workshops, led by our Brass Foundations team.
BBE members receive discounted tickets to the annual Brass Band Conference. Plus BBE member bands will each receive one FREE ticket to The Brass Band Conference 2023 at the University of Huddersfield.
We run in-depth, tailor-made courses for brass bands in areas such as safeguarding and band governance, available exclusively to our members. Browse our BBE events page to see what's coming up.
2. Access Guidance with our Member Resources
Did you know that the BBE Member Resources library includes over 160 resources, specially made for brass bands and their members? From reaching new audiences to becoming a registered charity, and everything in between, resources take the form of guides, toolkits, webinar recordings, case case studies, check-lists, and more.
The most popular resources of 2022 were guides on DBS checks, Child Performance Licensing and selecting music for beginner bands. Plus, our new 'Check and Challenge' safeguarding tool, developed in partnership with the NSPCC.
3. Stay informed with news and information
At BBE, all of our work is member-led and decisions are informed by the needs of our membership. You told us that you value up-to-date news and information above all else. That's why we always keep our members informed about the latest developments in banding, via news, customisable email alerts and our social media platforms. The monthly BBE Newsletter, exclusively to members, ensures that you won't miss out on what's happening in the world of brass bands.
4. Member services
What else is on offer? Well, BBE members also have access to the following cost-saving and admin-busting services to help with the smooth running of your band's projects and procedures:
FREE DBS checks for your band volunteers
Eligibility to use the BBE BOPA for Child Performance Licensing (on completion of the BandSafe toolkit and training course)
Access to BBE's Project Management service.
5. Take part in a range of opportunities
BBE runs a busy programme of opportunities throughout the year, every year, including chances to…
A. Perform
We organise and host the annual National Youth Brass Band Championships of Great Britain. Find out more about registering your youth band.
Additional opportunities, such as the Bold as Brass contest, an audience-focused event for bands in the second section and under, which took place at the National Coal Mining Museum of England. Future performance opportunities to be confirmed soon.
You can forge connections with your local community, young people and schools by participating in our annual Proms in the Playground events.
B. Take part
Why not take part in one of our national campaigns? You can benefit from centralised support and join other bands across the country to:
Raise funds for your band in our annual Crowdfunder campaign, #BrassBandsAtChristmas, which has raised hundreds of thousands of pounds for bands across the country in the last three years
Nominate your band for the Brass Bands England Awards, which recognise and celebrate innovation and excellence in brass banding
We've already mentioned Proms In The Playground, which has seen bands recognised as community assets in coverage across Radio 4, Sky News, and more.
C. Share learning
We all want to shout about our band's successes and achievements, and why not? We know we have a lot to offer! BBE offers opportunities for you to do so, thereby helping and supporting the rest of the banding community. You can:
Speak at the annual Brass Band Conference
Offer a case study for the BBE website
Participate in a video interview for our YouTube channel
Share your news and achievements with the membership and beyond.
6. Publicise with free BBE promotion
As well as promoting your band through the above opportunities and national campaigns, member bands can start engaging with the banding community from the moment they sign up, by:
Completing your band profile in the member Band Directory
Adding your Vacancies for individuals to discover playing opportunities via our Find a Band tool
Adding listings for your up-coming performances and events for promotion to other members and the general public.
7. Earn with BBE fundraising
We know that good fundraising is absolutely vital to the running of your band. That's why we have our dedicated Fundraising Manager focusing on just that. That means you can access:
Training and events focused on fundraising
1:1 support
The BBE Fundraising Service, including grant-writing support
An annual Crowdfunder campaign to earn funds for your band
You can also apply to us for funding directly from the Brass Band Project Fund.
8. Access benefits with BBE partnerships
By joining BBE you also gain access to all of the benefits of being a member of Making Music. Just register for your free affiliate membership once you've joined us.
Joining BBE means that you can access exclusive discounts on insurance for your band, as well as personal instrument insurance. An absolute must for all brass band performers.
9. Power in numbers with the BBE community
We know that brass banders love to connect with others in the community. We have a number of opportunities for BBE members to:
Attend Brass Bands England virtual and in-person networking opportunities
Connect with other members via the BBE Facebook Group
Connect with professionals who can support you on a range of topics. Just get in touch to discuss your needs and we will be happy to help
Access advice and guidance from the BBE staff team, who between them are knowledgeable in a range of areas including fundraising, charity status, event planning, marketing and much more.
10. Representation and advocacy
And finally, by supporting Brass Bands England via your annual membership fee you are also supporting the wider brass band community. We are here to represent and advocate for the needs of bands in whatever ways you need us to. In recent years, our contacts at Government level have ensured that we could get clear advice and guidance on rehearsing and performing during the Covid-19 pandemic. We continue to communicate with the Government on issues such as Brexit's implications for international touring and travelling with instruments.
As we've mentioned, we are proud to run a number of national public advocacy campaigns to raise awareness of brass bands to potential players and audience members, including our annual Proms In The Playground and Crowdfunder campaigns, and the Brass Bands England Awards. Brass bands have so much to offer - let's work together to let that be known!
…Plus, new programmes from April 2023 onwards, including an updated Artistic Development programme, BBE's Quality Band Mark, and Youth Band Leaders Training.
Have questions about joining Brass Bands England? You can email us at member@bbe.org.uk, give us a call on 01226771015, or contact us via Facebook messenger. To see which member benefits are available to individuals, visit our member benefits page.