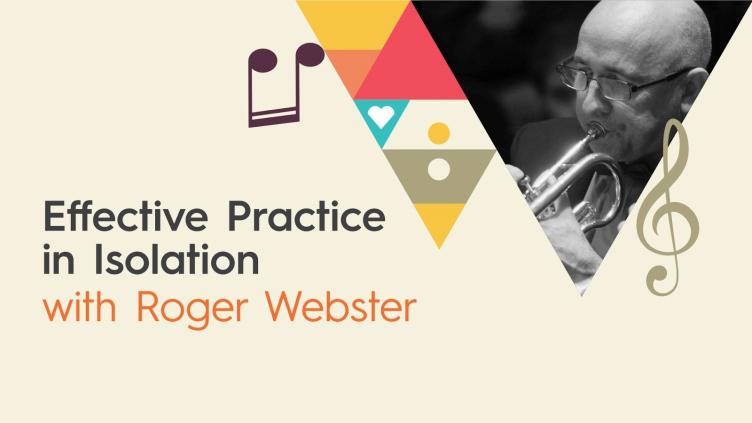 In the second week of Brass Bands England's (BBE) Development Programme Online, Dr. Roger Webster is to lead a free workshop to help you with your practice at home during this period of isolation. The workshop will introduce some elements from the highly-successful BBE Player Development workshops (which are also hosted by trumpet clinician Paul Cosh), but will give more time to focus on specific elements of effective home practice. The event will take place on a Zoom Webinar for those who want to get involved and ask Roger questions directly, as well as being available as a Facebook live video on the BBE Facebook page (https://www.facebook.com/brassbandsengland). The Webinar takes place on Thursday 2 April, starting at 7.00pm (BST). 
To sign up to the zoom webinar please go to https://zoom.us/webinar/register/4915857549861/WN_eqNUDveHT12Xr9IlvPA2jg to register, but with only 100 spaces you will need to be quick as many are already taken! During the session, Zoom attendees will be able to ask questions sent in via the registration form.
The workshop will begin with a short presentation on how to use the Zoom platform effectively to get the most out of the workshop while participants get used to the set up before Roger gets started at 7.15pm. 
The sessions will finish with participants being able to switch on their webcams and come to the 'BBE Pub' and have a general chat amongst themselves to meet, share ideas and collaborate! So have a drink (or a cuppa!) ready for the end of the session! 
The BBE Development Programme Online has lined up experts every Thursday for the next 11 weeks from across the brass band world to lead Webinars straight to your living rooms on subjects covering almost every conceivable element of banding. In a change from the day-long format, workshops during this time will be run as shorter online workshops, focusing on specific topics. To support bands at this time in keeping active and engaged, the workshops will be free for all users via online platforms. The sessions will not be the same as the full day workshops but will instead focus on a deep dive into specific areas that other courses can only touch upon, so if you've been on a workshop before there is something new here for you. There will also be a particular focus on areas that band people can work on at home or specific areas band organisations can work on to strengthen themselves for the months ahead. 
Speaking after the first Development Workshop Online last week, BBE Relationship and Development Manager, Alex Parker, said: "We were so pleased with the results of last week's workshop, with over 10,000 people having watched either live or on catch up. We had all 100 spaces registered in 48 hours and lots of great questions submitted, which has shown us there is a desire for these sessions during the crisis and we have been working really hard to make them happen for at least the next few months, working with some really brilliant people along the way!" 
The workshops will be delivered online using the Zoom webinar platform so attendees can interact and ask questions throughout the session directly. The session will also be available on Facebook live on the BBE facebook page (https://www.facebook.com/brassbandsengland)  and BBE facebook group (https://www.facebook.com/groups/BrassBandsEngland/) for which users can sign up to for free. 
Alex added: "Last week was a steep learning curve for us with our first external use of the Zoom platform, but we have been trying to improve the set up for this week's event and are aiming to make these high-quality workshops really engaging for our attendees. We are also really pleased that we have partnered with many organisations from across the banding world to host the livestream on several Facebook pages simultaneously, including the National Brass Band Conductors Association, UniBrass, BrassPass and 4BarsRest to make sure as many people can access these free webinars as possible!"  
Next week will see Philip Harper return for a Webinar called 'What on earth is my conductor doing?', aimed at banders who sometimes wonder what a conductor means with their movements. The session aims to discuss the basics of the role of the conductor (it's more than just waving your arms around!) and examining what a conductor should be doing both in rehearsal and (more importantly) in preparation for rehearsal. Registration for this event will open on Friday 3 April 2020. Please see the Facebook event on the BBE page for details.